Sometimes at the end of the month the end cool deals – so I wanted to remind you to check out this deal. I got the first outfit for $25 and they got 2 surveys that gave me a $35 credit. So I was able to get the outfit above for just $4.95!  Let your daughter take the free style profile and she can create her favorite outfit!
I have been telling you for a few weeks about FabKids. They have cute clothes that are shipped to your house each month. Now before you stop reading – it's EASY to skip a month or cancel. Plus there are some perks! Your first outfit is just $25 shipped.
First I will tell you about the original deal.
Create A FREE  Style Profile. Take the  fun, quick and FREE Style Profile Quiz so they can get to know your girl. (Try this even if you aren't going to buy anything.) 
Pick out an outfit. Each month you'll find new outfits styled just for your girl. Every outfit includes 3 pieces for just $39.95. You can buy the outfit you love or skip the month altogether.
Just enter the code FIRST25 at check-out  and your first outfit will be just $25 shipped. It has 3 pieces – so that's about $8 a piece.
Receive Your New Outfit. Your new FabKids outfit ships free and will arrive within a week!
My adorable outfit arrived in a few days and I also received a free long sleeved t-shirt. Then they sent me a survey that took 3 minutes and it was for a $25 credit!! I skipped the next month's shipment because I didn't see anything I needed and they sent me another short survey for a $10 credit.
So now I had a $35 credit to go towards a $39.95 outfit. Above is the adorable outfit I just bought for $4.95!
So in total I paid $29.95 and here's all the stuff I have received:
Dress
footless tights
hair bow
long sleeved t-shirt
cardigan sweater
long sleeved top
denim jeans
I think that this is a great deal! I need to take a picture of my daughter in her dress to share but until then, below is the original outfit I bought. The quality of the clothing is excellent.  So click here and take the FREE style profile and you can see all the cute outfits that are available.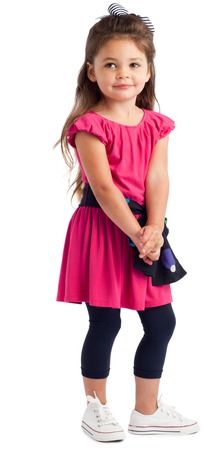 You can cancel anytime for any reason with absolutely no strings attached. No penalties. No problem.
{ 0 comments }