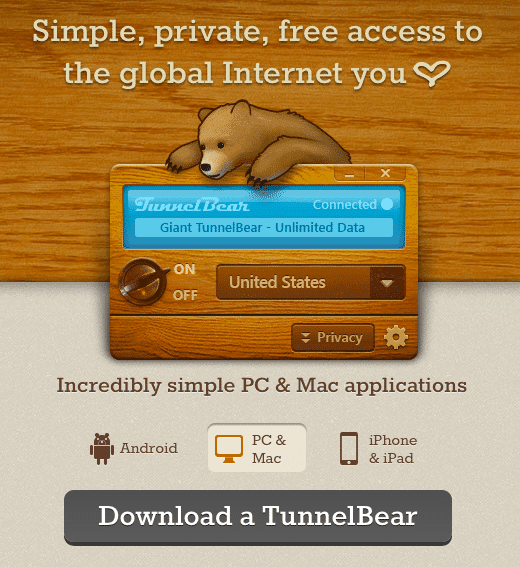 If you have ever traveled outside to the United States and tried to open up an app like Netflix, Pandora, Spotify, etc. you quickly realized that you are unable to use these apps because you had an international IP address. In order to be able to use your accounts while traveling you need a VPN to re-route your IP address to a US based IP address.
TunnelBear is the world's easiest to use consumer VPN software that securely "tunnels" your internet connection to locations around the world. TunnelBear can be used to protect your privacy, to bypass internet censorship and to experience the internet as people in other countries experience it.
Let's say you go on a trip to Mexico. Once you cross the border, you will quickly realize that that shows on Netflix are not the same as the shows offered on Netflix when you are in the United States. When you download TunnelBear it will run in the background and you will still have a US IP address. All your shows are back and you can catch up on your favorite shows during your down time!
It's also good if you want to protect your privacy online. Your connection is diverted through their secured tunnels. It will be as if the you're doing it from the country you selected, instead of your original computer.
Using a VPN to hide your location is a very similar concept to people who rent mailboxes at the post office. TunnelBear allows you to send and receive information from the internet without anyone knowing where you're located. Just the same as people who rent these mailboxes can send and receive mail without anyone knowing their real home address.

How to use TunnelBear:
Download it on your iPhone, iPad, Android Device, PC or Mac. If you don't want it on all the time you can shut off VPN in your settings.
Once it is turned on – you can securely browse the internet from anywhere in the world!
It really takes less than 1 minute to download and start using!
TunnelBear Pricing – this has to be the most affordable VPN I have used!
FREE – 500MBs of free data each and every month. You can also get a bonus 1GB of free data by participating in their twitter promotion. There is even a gauge that lets you know how many MBs you have used.
Unlimited $4.99 per month –

Have an iPad, iPhone or Android 4.01+ device? Purchase a TunnelBear on your PC or Mac and you will also receive unlimited tunnelling on two additional mobile devices!

$49.99 per year – Pay for 1 year of unlimited service and you will save 17%. Your service will NOT be automatically renewed.
I have tried a lot of different VPN services. When I travel I get so frustrated that I can't access the same things I can access when I am in the US. TunnelBear is very easy to use and very affordable. I have used several VPN services in the past and they have been so complicated. This is easy to use and it is free up to 500MB!
This is the first VPN I have found to be effective when I am using my iPad. I really do love it!
FYI – Using a VPN service is not illegal. Some companies do not like it because the don't want their content viewed in other countries.
Disclosure – This is a sponsored post. All opinions are my own.