This information is brought to you by A Dog's Purpose. All opinions are my own. #ADogsPurpose
Have you heard about the newest movie from Universal Pictures? It's called A Dog's Purpose. The cast is amazing and it looks like it will be a great movie for the whole family to enjoy. So many families include a dog and they really are an important part of every family.
We rescued our dog almost a year ago. They didn't know his age but they say he's around 2 years old. They also have no clue what breed he is but he has some boxer and border collie in him. In our city they have a program where the dogs get obedience training with inmates. It is really a pretty awesome program where the dogs are fully trained and vetted when you adopt them.  Colby is great with our kids and it's really great to see how they love each other.
About A Dog's Purpose:
Based on the beloved bestselling novel by W. Bruce Cameron, A Dog's Purpose, from director Lasse Hallström (The Cider House Rules, Dear John, The 100-Foot Journey), shares the soulful and surprising story of one devoted dog (voiced by Josh Gad) who finds the meaning of his own existence through the lives of the humans he teaches to laugh and love.  The family film told from the dog's perspective also stars Dennis Quaid, Peggy Lipton, Britt Robertson, K.J. Apa, Juilet Rylance, Luke Kirby, John Ortiz and Pooch Hall.

A Dog's Purpose is produced by Gavin Polone (Zombieland, TV's Gilmore Girls).  The film from Amblin Entertainment and Walden Media is executive produced by Alan Blomquist and Mark Sourian, and it will be distributed by Universal Pictures.

Starring Britt Robertson, KJ Apa, John Ortiz, with Dennis Quaid and Josh Gad
Make Your Own Poster:
Would you like to create a poster with your dog's face? Recreate the #ADogsPurpose movie poster using your dog & share using #MyDogsPurpose. Your furry friend could even be featured in the film's campaign! Get started now: http://unvrs.al/ADPPoster
The ones we rescue, rescue us. Watch the trailer for A Dog's Purpose, in theaters January 27.
Giveaway Details:
One (1) winner receives:
1-month BarkBox Gift Card ($35)
A Dog's Purpose Calendar
Bandana
T-Shirt
Tennis Ball Launcher
Frisbee
Click here to enter if you are reading this in an email or RSS feed.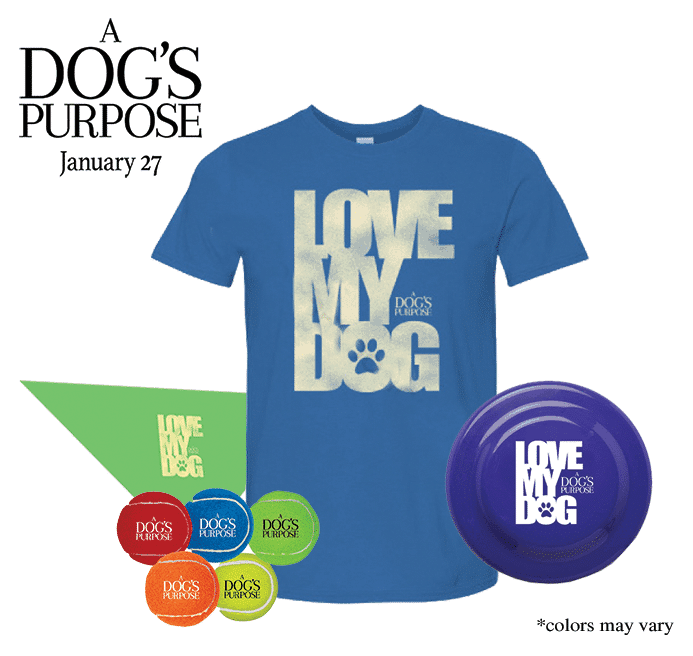 Open to US mailing addresses only | Prizing and samples courtesy of Universal Pictures