Are you Visiting Volcano Bay this summer? Here are 9 Tips Know before you go…
We received a discounted vacation to Universal Orlando. All opinions are my own.
Our family absolutely loved Volcano Bay, Universal's water attraction! The kids had so much fun, and the parents had fun with them in this refreshing park.
I have been to a lot of parks in Florida and Volcano Bay was amazing. We loved the TapuTapu™ bands so we didn't have to wait in line we didn't have to drag any rafts around the park – each ride had their own raft and they were waiting for you at the top!
We learned a lot while we were there this summer, and I thought I'd give you some tips for visiting Volcano Bay.
How Early Should I Arrive At Volcano Bay?
We had early access, but even if we didn't, you should make the effort to get there as soon as you can so you can get on the rides on your "must ride" list. (It's a perk to staying at a Universal Orlando Resort.)
Does Volcano Bay Provide Swimming Vests?
There are free vests around the park for those who are weaker swimmers. They will make your trips into the wave pool and other places much safer.
How to get the best spot at Volcano Bay?
There really isn't a "wrong" place to park your towel. Our family hardly even went back to our chairs. If we would have wanted to, anyplace in the park would have been fine for us.
Do I need to bring towels to Volcano Bay?
We walked around wet all day and barely touched a towel until it was time to leave. You probably don't need to cart five towels to the park (or to rent so many). Florida is hot, and you'll probably dry on your way out of the park.
Can I wear shoes on the rides at Volcano Bay?
Don't think that you're going to use your "water shoes" on the rides. They're not allowed! I didn't find that we needed to wear shoes the whole time we were at the park. So, if you get a locker, you could probably just throw them in there.
Bring a waterproof phone or camera
Unless you waterproof your phone, you want to put it in a locker, but I'm a little bummed that we don't have many pictures from our trip there because my phone was locked away all day. You use your TapuTapu™ band to access the lockers.
Can I bring a GoPro Camera To Volcano Bay?
You're not allowed to take your GoPro on rides with you, so you might want to leave it in the locker as well. You can take it into the pools and probably the lazy river, but none of the slides are GoPro friendly.
Does Volcano Bay Have A Lazy River or "Crazy River"?
Volcano Bay has two river rides (the ones you get in and ride on an inner tube). One of them is not as lazy as the other and could be dangerous if you don't know what you're getting into. Kopiko Wai Winding River is the lazy river.
The TeAwa River is similar to white-water rafting. I personally enjoyed the TeAwa more, but it's not a great idea little kids or weak swimmers.
Bonus: Relax! You're on vacation! Have fun and enjoy your time at this incredibly exciting water park!
It was a beautiful park with a huge variety of slides to enjoy for all ages. My younger kids were right around the 48-inch height mark and they loved the kiddie area. There were a few slides that were made just for them. There were a ton of chairs for the adults to relax while you let you kids enjoy the water.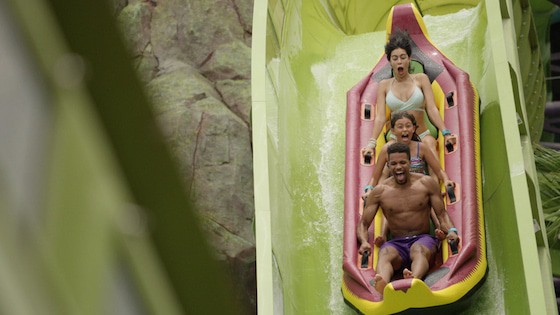 Photo Credit: Universal Orlando Resort
We loved Krakatau Aqua Coaster – we went on that a few times. It's just like a roller coaster as magnets propel you up and down the slide.
TapuTapu™ tip – these do come off easily but you can visit the guest service kiosk for a replacement. Bring someone with you from your family so they can find your account easier and give you a replacement band.
I hope these Tips for Visiting Volcano Bay help you have the best time at Volcano Bay!
Have you had the chance to go to Volcano Bay? What tips would you add? Leave them in the comments!