This information is brought to you by Savings.com. All opinions are my own. #SamsBigGame
I have been a member of Sam's Club for as long as I can remember. We had one a few miles from our house when we lived in Mexico and we went there at least once a week! Now that we live back in the US it is great for our family's needs. Between 3 kids and a dog – I love to go there and stock up for every day activities.
It's also my first stop when we are having a party. With the big game coming up in a few weeks, I know that I can get all the food I need to satisfy all the football fans in my house. Most of the time it's not anyone's team actually playing in the game, so it's about the food, friendship, and fun!
We like to invite everyone over and set up a few different areas for food. We have everything from slow cooker meals, appetizers, sandwiches, kid friendly foods, and dessert! It's a lot of fun.
Here are some of the must have items you can pick up at Sam's Club for your football party:
Tyson Wings – put out some dipping sauce and chips and you have an easy appetizer.
Skittles & M&Ms – no one can resist a platter of candy. It's great for popping into your mouth during the commercials.
5 Hour Energy – The game ends late – you may need something to get you through it!
If you are not a Sam's Club member, I have a great deal for you! When you purchase a membership for $45 you will get a $20 Sam's Club gift card. This deal ends March 31 –  click here to learn more.
Tip – Also check your Valpak envelopes for additional information on Sam's Club memberships and savings available to members.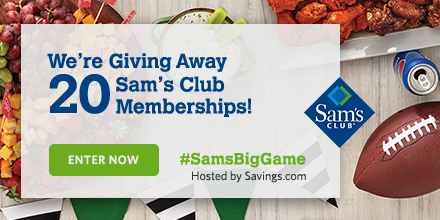 Take a minute to enter the #SamsBigGame giveaway! You could win 1 of 20 $45 Sam's Club membership gift cards.
And if you like Twitter Parties, mark your calendar for the #SamsBigGame Twitter party happening at 6PM PT on Tuesday, January 16th. They are giving away $500 in prizes! Click here to RSVP.
Do you have plans for the big game? What' snacks will you be serving?