We love all things related to HOTEL TRANSYLVANIA! We have seen all 3 movies and I love to watch the show on Disney with my kids. So I am excited to share some of this fun with you about the movie!
HOTEL TRANSYLVANIA 3 will be available September 25th on Digital HD and arrives on Blu-ray™ Combo Pack and DVD on October 9th! Just in time to watch at your Halloween party! (Here is my Amazon Affiliate link to pre-order the digital copy.)
Plus check out this whole batch of Drac-tastic material featuring a DracuStraws activity page, a recipe for Drac's Spooky Smoothie, and a few adorable bonus features clips!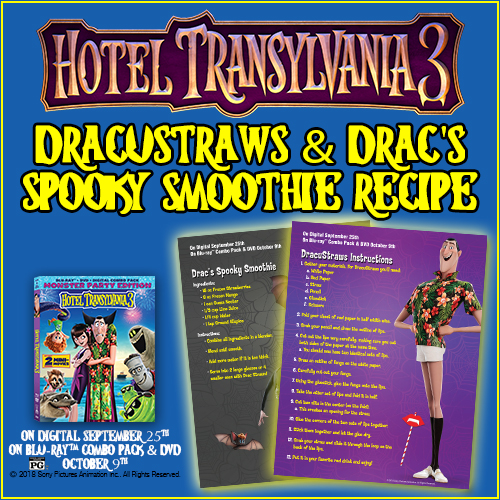 BONUS CLIP: Scary-Oke Sing-Along "Oh, These Wolf Pups!"

BONUS CLIP: Plan Your Own Spook-Tacular Sleepover