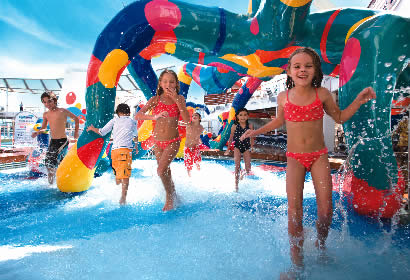 Our last vacation was on a Royal Caribbean cruise. It was amazing! I think we paid $250 per person for a 4 day cruise to the Bahamas. We had a nice, clean room. We had all the food we could possible want. And when we woke up in the morning we were at a beautiful beach!
The Food – the food on the Royal Caribbean cruise was awesome. You could order as much food as you wanted for breakfast, lunch, and dinner. I was with my family and my sister and I love shrimp. We ordered 8 appetizers of shrimp cocktail! Then if regular meals are not enough for you, they have midnight buffets! Every night is a different theme. My favorite night was chocolate night. Just imagine chocolate, every kind of chocolate, as much as you want! I definitely had my fair share of chocolate covered strawberries! You will never be hungry on a cruise.
The Destinations – I am not a big fan of flying so I love that I can get on my cruise ship and wake up in the morning and I am at a private beach! We got to spend the entire day at this beach and the only people on this island were from our boat. We got back on the boat and the next day we woke up we were in the Bahamas!
The Cost – You can find some amazing deals on Royal Caribbean cruises. You can't find a better value for everything you get on a cruise vacation!
Here are some deals available for a Royal Caribbean cruise:
5 Night Western Caribbean November 12, 2011 Jewel of the Seas, Starting at $379
7 Night Soutern Caribbean November 26, 2011 Serenade of the Seas, Starting at $549
7 Night Eastern Caribbean December 4, 2011 Freedom of the Seas, Starting at $599
7 Night Bahamas December 17, 2011 Enchantment of the Seas, Starting at $593
I didn't even talk about the excellent entertainment and shows on the ship. Or the salon and spa services available. Plus, they have pools and gyms! Some Royal Caribbean cruise ships have rock climbing walls, a splash park that is overflowing with interactive sculpture fountains, spewing geysers and a cascading waterfall and a FlowRider® surf machine!
In my experience, I think this is the best vacation! You can find awesome deals and so much is included in your vacation!