This information is brought to you by Tampico Punch. All opinions are my own. #FrolicintoFallwithTampico
Fall is my favorite season. I love the coolness in the air. I can open my windows and enjoy the breeze. Some days I can even wear my boots and a light sweater. My kids play baseball so we get to spend many nights outside enjoying the gorgeous Fall temperatures.
We are back into our daily routines and I love to embrace the crisp air and changing leaves! I lived in Florida for most of my life and now that I live in Kentucky I can really enjoy the seasons.
I have always been able to enjoy the flavors of Fall….pumpkin, cinnamon, and apples. YUM! With Fall just around the corner and the abundance of apples, I wanted to share a delicious recipe with your that our family loves! It's so easy to mix together that your kids will be ready to help. After it's ready to eat you can enjoy it with your favorite flavor of Tampico Punch!
Caramel Apple Candy Dip
2 – 8 oz cream cheese (softened)
1/2 cup sugar
1 1/3 cup brown sugar
2 teaspoons vanilla
4 candy bars, diced small (save 1 for after it chills)
Caramel sauce
4-6 apples
Instructions:
In a medium sized bowl, beat the cream cheese, sugars and vanilla with a hand mixer for a few minutes until smooth.
Fold in half of the diced candy bars and a drizzle of caramel sauce into the cream cheese mixture.
Refrigerate for a few hours.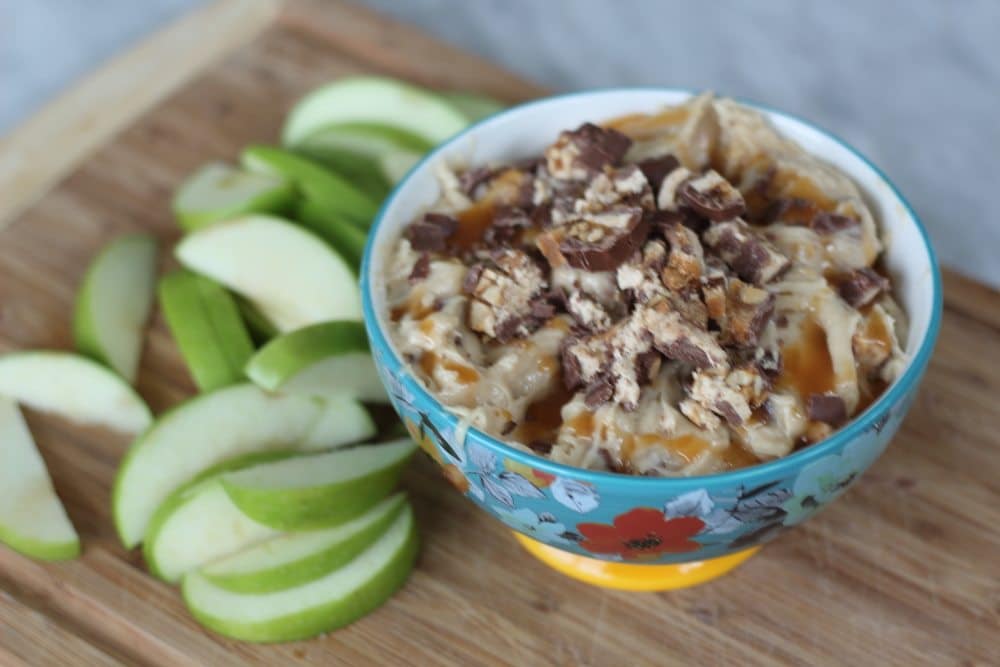 When you are ready to serve it, top with the remaining candy bars and caramel sauce.
Cut up the apples into thin slices and enjoy!
The hardest part is chilling it for a few hours so all the flavors can blend together. (I am not very patient.) But I promise it's worth the wait. This is a great dip to bring to a friend's house or serve your friends when they come visit – they will be very impressed!
I always have some Tampico Punch for my kids to enjoy with snacks. It is one of the world's leading manufacturers and marketers of high-quality and value-priced, fruit-flavored juice drinks has served its line of irresistible, thirst-quenching beverages for more than 25 years.
Fall signifies the beginning of the colorful holiday season and I hope you can enjoy this recipe with your family. From Labor Day to outdoor activities, we're ready to hear how you celebrate the beginning of Fall.
Find more #FrolicintoFallwithTampico at TampicoIsColor.com.
What's your favorite food to eat in the Fall?