This shop has been compensated by Collective Bias, Inc. and its advertiser. All opinions are mine alone. #FDNewBeauty #CollectiveBias
I often get overwhelmed going into large stores to pick up the products I need for our family. That's why I prefer to run into Family Dollar to get everything I need. I love that I can buy the same quality, name brand products I know and trust with the savings and convenience of
Family Dollar
stores.
I usually run there to grab our toiletries. I know they will always have the best prices. I love Caress® Sheer Twilight™ body wash pump that I just picked up at Family Dollar. It's on the personal care aisle where you can find just about everything you need to keep your family clean and smelling great.
Caress® Sheer Twilight™ is just what I need to start my day. It puts me in a happy mood. It is infused with the hints of alluring black orchids and juniper oil. This body wash gently cleanses your skin while leaving it delicately fragrant and soft.
While I was in Family Dollar I realized that I needed to update my bathroom and this was the perfect time to grab a few items that would change the decor or the room at a price I could afford.
Here is the "before" picture. The bathroom is really boring and it had nothing on the walls. We didn't even have a place for the towels. But you will see how easy and affordable it was to do this budget bathroom makeover.
What I bought at Family Dollar for my budget-friendly bathroom makeover:
Dream Picture– this was the inspiration of the room. I loved the colors in it. It was only $10 and I knew it would make the bathroom much brighter and relaxing.
Caress® Sheer Twilight™– Because it smells amazing! It's perfect to lather up for shower and bath time.
New Rug– The old rugs were brown! They did not make that room look good at all. This microfiber rug is super soft and almost shimmers with all the brightness in the bathroom.
New Towels– These towels are super absorbent. And I love the dark charcoal color that is in between a black and a grey.
Slim trashcan– I needed a smaller trash can that didn't cover the air conditioner vent. This one fits perfectly in the corner.
Shower caddy– we didn't have anything to store our bathroom items. This has a few shelves and a place to hang my loofah. I can fit the Caress® Sheer Twilight™ and other soaps I buy at Family Dollar. I love that it has extra suction cups to make sure the caddy sticks to the wall.
Extra washcloths– I like to use these as a decoration. It has some grey embroidery on it and is tied with a ribbon.
I only paid $35 for all these items. I was able to download a Family Dollar Smart Coupon to save an additional $5 when I spent $25 or more.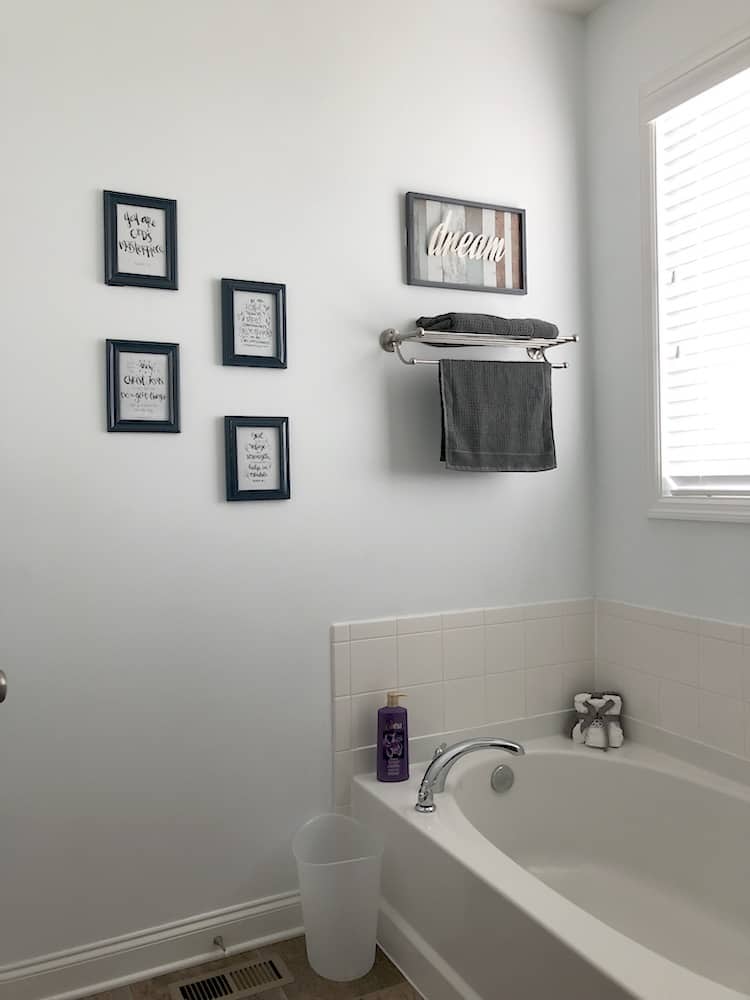 There were a few things I already had in my garage to add to the bathroom:
Towel Rack– someone gave this to us and it worked perfectly in the bathroom
Framed quotes – I had finished the room but it felt like something was missing. So I remembered I had some picture frames in the garage. I grabbed 4 of them and spray painted them with some spray paint we had left over from another project.
Then I looked online for free 5×7 printables and grabbed a few quotes, printed them and framed them. I think they really add more color to the bathroom and is exactly what we needed to finish this budget bathroom makeover.
Paint – I stopped at a local paint store and brought in my picture from Family Dollar. I picked out the lightest color I could find to match because the goal was to brighten up this room! (I paid about $25 for a gallon of paint for this room.) I wanted to add color to the room with the decorative items and not with paint.
I actually thought I picked out a color that was really white and was pleasantly surprised when I got it on the wall and it had a light blue tint. You can really see the difference!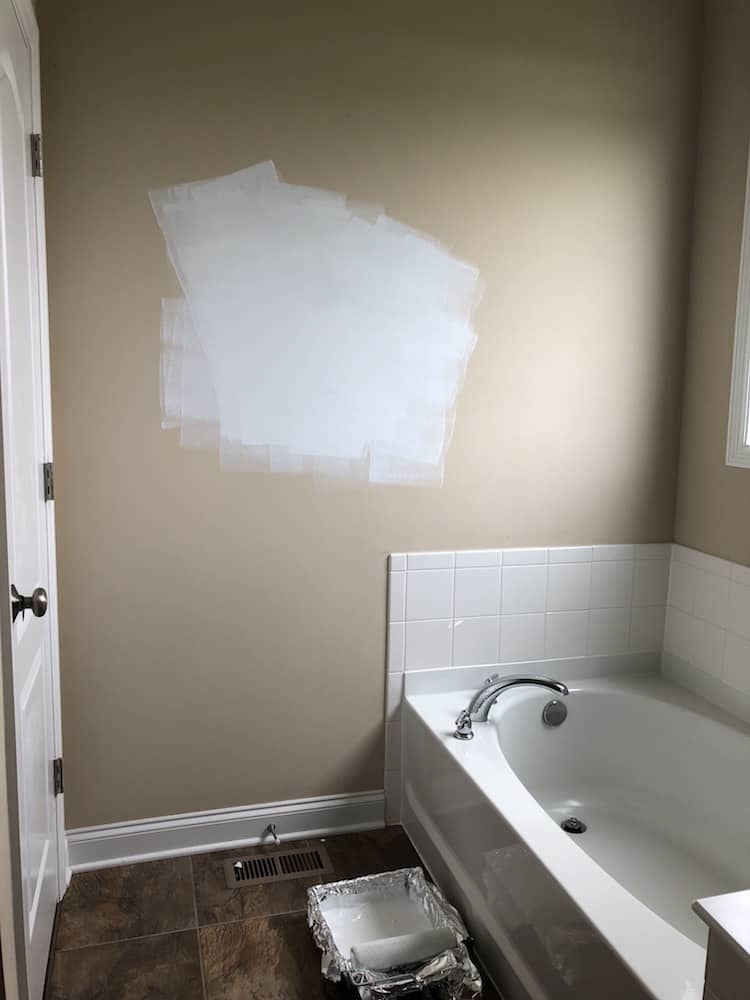 Are you ready for the bathroom makeover reveal?! I LOVE it! My bathroom is so much brighter and the sign is the perfect centerpiece for the room.
Make sure you clip your Family Dollar Smart Coupon and save on the products you know and love. Plus it's so easy to get what you need and go at Family Dollar. And you may even be inspired to change up a room in your house with all the cool stuff you can find at Family Dollar.
Here are a few more before and after images:
​