We just got a mini waffle maker and it has become a huge hit in our house! We have used it about 20 times in the past 3 days! We have been making Keto Chaffles which are basically egg and cheese and anything else you want to mix in.
We have made cookies, grilled cheese sandwiches, Belgium waffles, and more. My kids even love using it and are having fun coming up with new things to make with it.
We are also trying to eat less sugar and flour so making these bacon, egg, and cheese chaffles have been perfect for the morning rush. Each one takes about 2:30 minutes to make.
I don't like the texture of scrambled eggs, but I love how these have a little crisp to them and are really filling and full of flavor.
The other day I made an Everything Bagel Spice Chaffel and it was amazing!! Today I had some leftover bacon in the fridge that I decided to use.
They were so good and I think I need to double or triple the batch so I can have more when I get hungry!
They are so easy – mix the ingredients, add them to the waffle maker, cook for 2:30 and it's done!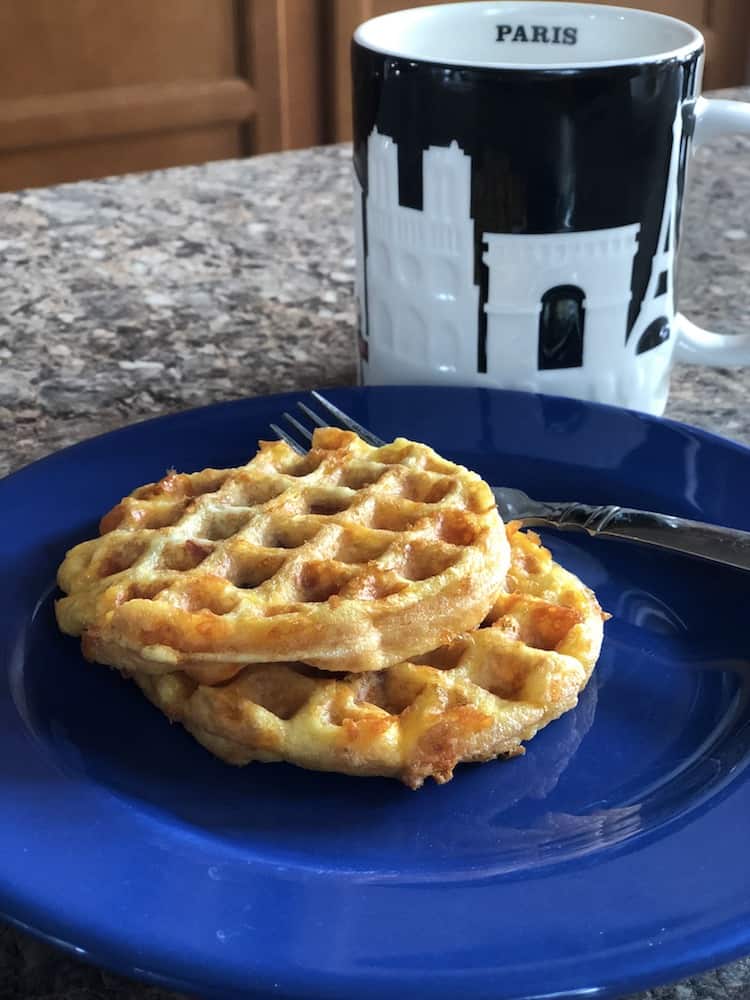 This recipe makes 4 chaffles. You can put them in the fridge and microwave them when you are hungry.
I may also try to stick them into the toaster to see how they taste reheated.
Keto Bacon, Egg, & Cheese Chaffles
2 eggs
3/4 cup cheese
2 slices cooked bacon
Instructions:
Preheat your mini waffle maker. Spray with cooking oil.
Add the eggs and scramble them. Then add the other ingredients and mix well.
Pour 2 heaping tablespoons of the batter into the mini waffle maker.
Set a timer for 2:30 and wait.
Once the time is done remove it with a fork. It will crisp us while you let it cool off.
Optional – you can sprinkle some cheese on to the egg mixture before you close the waffle maker if you like extra cheese flavor. It should give you that crispy cheese flavor if you like that.
If you don't have a mini waffle maker – you need it! This is the one I have. Below is my affiliate link. I will earn a small commission if you make a purchase using my link.
Nutritional Value: