This post is sponsored by Sivan Social. All comments and opinions are my own. #PlaySuperSquares
I live in Tampa – and recently we have been known for our sports teams. The Tampa Bay Lightning won the Stanley Cup Playoffs the past two years. The Tampa Bay Rays were the AL Champions last year and this year they were the division winners. And our football team picked up some new players and won the Super Bowl this year.
People have started to call our city Champa Bay! It's definitely a fun time to live in Tampa, Florida.
My sister has season tickets to the Bucs games and a few weeks ago they played my husband's favorite team the Miami Dolphins. It was a fun game to cheer on both teams.
When we aren't able to go to the games, we hang out with my sister's family and cheer on the Bucs – maybe they will win the Super Bowl again this year!
If you love football as much as we do – you are going to want to download the Super Squares app!
How it works:
PREDICT the outcome of the game – Final Score, Total Offense, and Most Passing Yards.
REACT to a quiz about the 2 in-app Sponsor ads; RATE them to earn 1 point each.
SQUARE UP now – and every quarter – by matching the score to your 4 new Square Combos.
Once you download the app you log in. Then you can pick a few stats from football games. Today I was able to pick the final score of the Monday Night Football Game, total offensive yards, and which team would have the most offensive.
You can also watch ads to get bonuses and answer questions about the ads. And the prizes are pretty amazing if you win!
Make sure you check your mail for the Valpak envelope! You will have the chance to win even more on Monday nights starting November 22, when you play as a Valpak VIP. Find the code on the envelope for a chance to win a $20,000 Valpak bonus prize each week.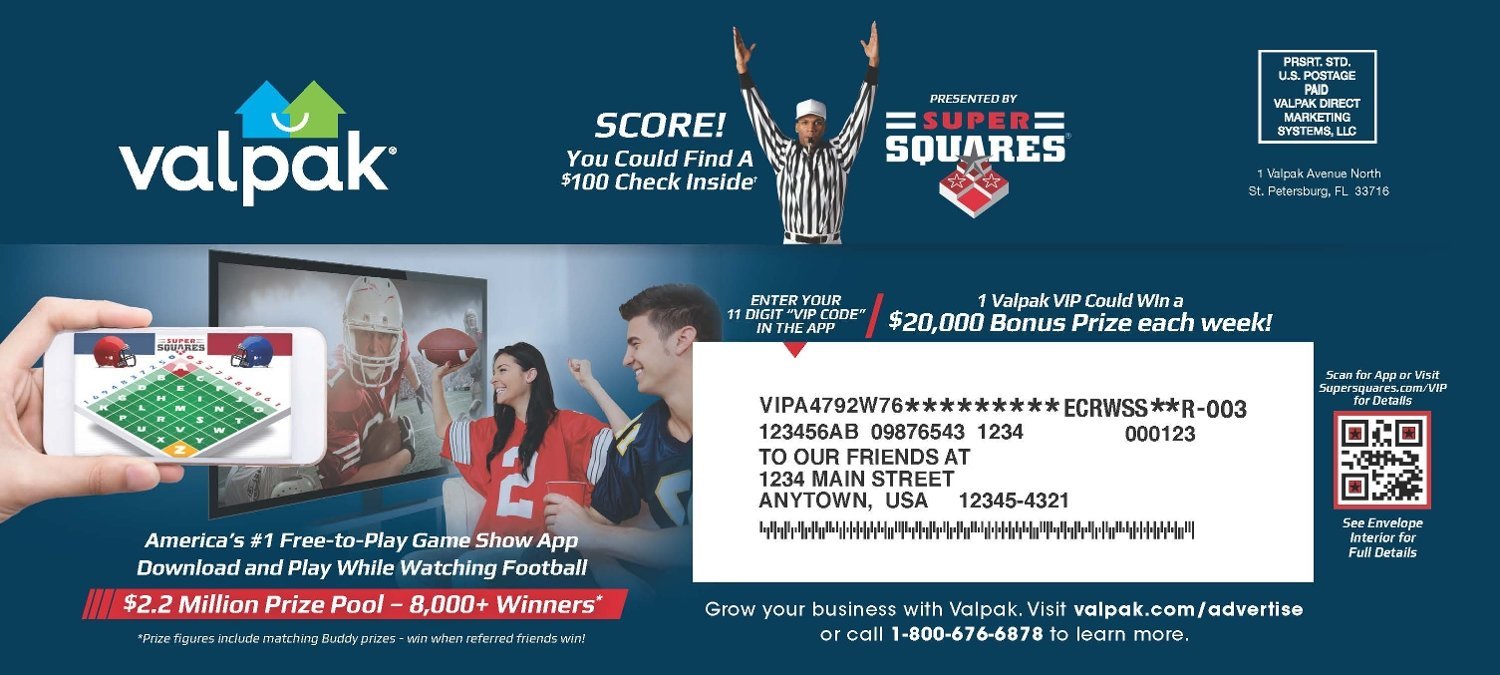 It's easy to play and win while watching football! There are over $2.2 million in cash and prizes up for grabs.
Invite your friends and have them credit you as their "Buddy." During special events and tournaments, when Friends Win, you can win matching prizes. When they win, you win.
Download and play Super Squares now! And don't forget to look for the Valpak VIP code available on Valpak envelopes this November.