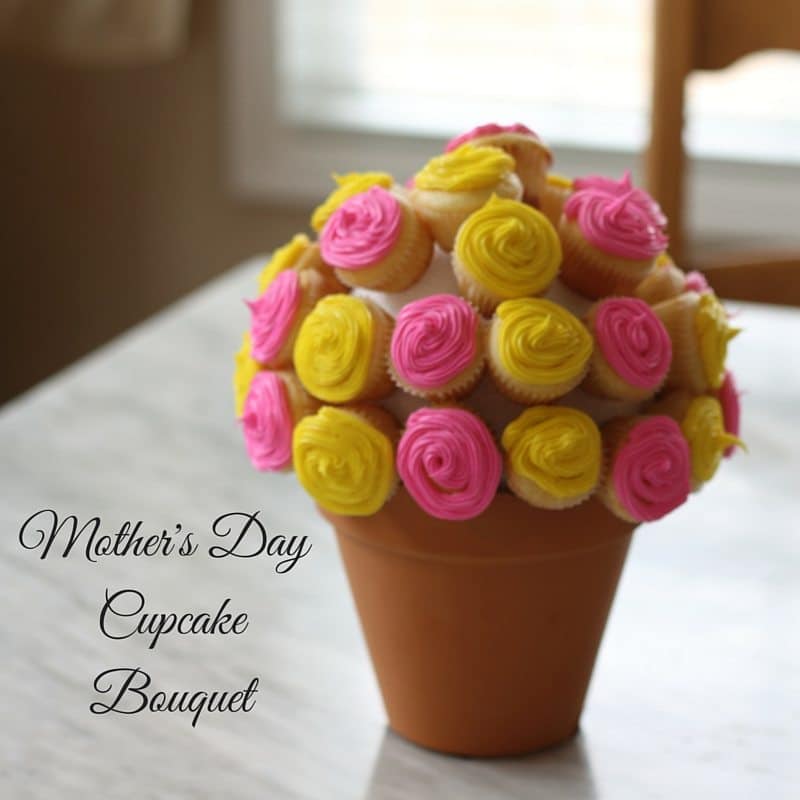 I love to bake! (If you can't tell by all the recipes I post.) So to give you a fun project to do for Mother's Day, I have a 2 in 1 gift for mom. It's a bouquet of flowers – but the flowers are actually mini cupcakes! It's not that hard to do and your mom will be very impressed.
Cupcake Bouquet
Supplies:
Toothpicks
Your favorite cake mix
Yellow icing
Pink Icing
(2) Icing bags
Styrofoam ball
Terracotta plant pot
Instructions:
1. Prepare cake mix according to the package instructions. (You can use my recipe to make a cake and icing from scratch.) Fill the cupcake tin 2/3 full. Back for about 10 minutes. (The recipe should make 48 mini cupcakes. I used about 35 cupcakes for the bouquet)
Tip – use a squeeze bottle to pour the batter into the cupcake pan.
2. Let the cupcakes cool completely and set aside.
3. Put the Styrofoam ball in the pot. Fill the icing bags with one of the icings.
4. Add a toothpick to the bottom of the ball. Put it in at an angle pointing upward. Add a cupcake and spread the toothpicks around to make the lower circle of cupcakes.
5. Continue adding another row of cupcakes until the whole ball is covered in cupcakes.
6. Starting on the outside of the cupcake, swirl the icing in a circle ending at the center. Add the icing to half of the cupcakes, making sure to space out the colors.
Continue until your bouquet is complete.
This would be a fun project for just about any day. I brought this up to my kids' school so all the teachers and administrators could enjoy it. Bring it to a potluck or serve it at a birthday party. It's a fun and easy way to display your yummy cupcakes!