This information is brought to you by Tampico. All opinions are my own. #WaveYourFlagWithTampico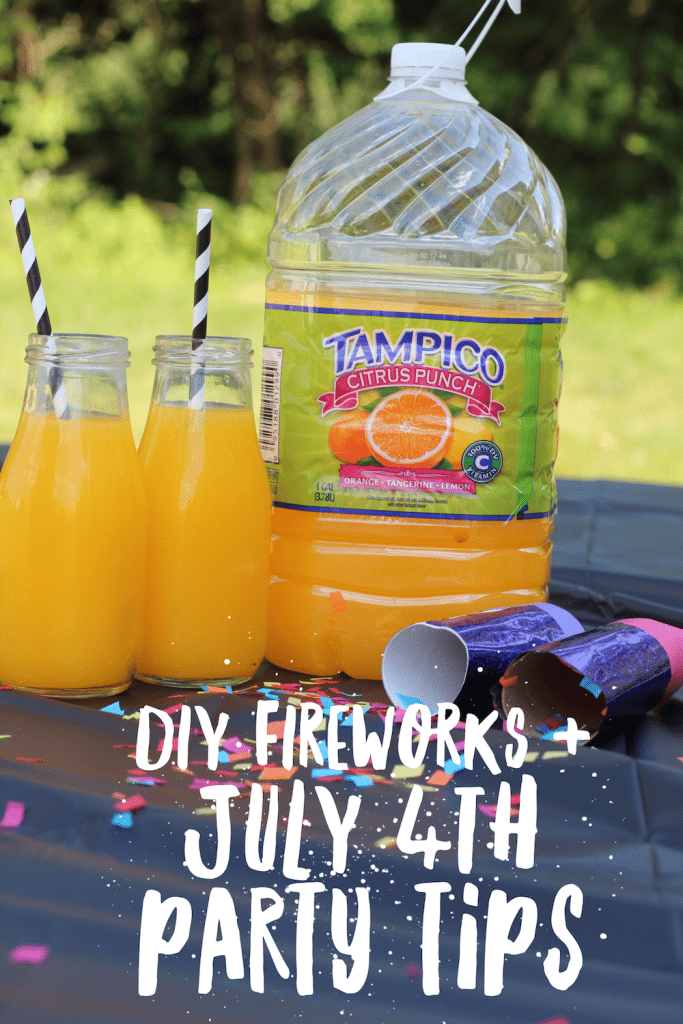 Summer is officially here! It's time for outdoor fun and BBQ's. We especially love having a big party for July 4th. We do some simple things like grill up some meat, have everyone provide side dishes, drink Tampico Punch, and enjoy watermelon!
Watermelon is the best party food. Kid's love it. I started to cut them into bars for the kids to enjoy. It's fun to eat and it's a little easier to eat all the yummy part of the watermelon. Use this grid below to help you cut your watermelon into sticks. First make sure you cut the watermelon in half and place it flat side down.
My kids love to stay up late and watch the fireworks from a distance. We have tried to do sparklers with them but they don't really like them. They get afraid of the sparks and throw them on the ground.
So to help them to be able to celebrate July 4th, we have created our own kid friendly DIY fireworks. It's super simple to throw together and your kids will love it.
DIY Fireworks
Supplies:
toilet paper rolls
balloons
scissors
tape
markers (optional)
colorful tissue paper
Instructions:
Start saving all your toilet paper rolls. We tried to use paper towel rolls but they are not as strong as toilet paper rolls so they bend when you add the balloon.
Cut the top of the balloon off so you can stretch it over the toilet paper roll. (You want it to be flat across the bottom of the roll so the confetti flies higher into the air.)
Next, you will secure the balloon with tape. You can buy pretty tape and cover the whole thing with the tape or you can use clear tape and markers to decorate the roll.
Next you cut up the tissue paper. The easiest way to do this is to layer the paper and then cut a strip. Then cut off little squares to make small confetti pieces. You need to make a lot because your kids are going to want to shoot off the "fireworks" over and over. So cut it up and place them in a container to use as needed.
Sprinkle a handful of confetti into the firework. Grab the bottom and "pop" it to make the confetti fly. As you can see it's lots of fun and very colorful!
Who needs real fireworks when you can make your own DIY fireworks that are very cheap and easy to make! Your kids can enjoy themselves safely while they cheer independence day with a colorful glass of Tampico and some watermelon.
If you are looking for some more ideas to help host the best BBQ, check out this post where I share how to make Sliders, Ice Pops, and Tampico Slushies!
What are your plans for this 4th of July?