I was provided with accommodations at Lake Rudolph Cabins. All opinions are my own.
As part of our quest to explore new places around Louisville, Kentucky we wanted to check out Holiday World. It's about a 90 minutes from Louisville, and it sounds like so much fun! (More about Holiday World in another post.) As I was researching Santa Clause, Indiana I came across Lake Rudolph Campground and RV Resort. They also have cabins – wonderful cabins that is my kind of "camping."
The Lake Rudolph resort is located next door to Holiday World, and they have a free shuttle. So it's the perfect place to stay to enjoy your visit.
About Lake Rudolph:
Lake Rudolph offers the best camping in Indiana. Choose from spacious RV site accommodations or a great selection of fully-furnished vacation rentals. Take advantage of their fun-filled amenity package with exciting on-site activities like Santa's Splash Down Water Park, Dasher Splasher splash pad and so much more! The quaint town of Santa Claus also has plenty to do, with attractions like the Santa Claus Museum & Village, and more.
There is something for everyone at Lake Rudolph:
Cabins (We loved our cabin!)
RV Rentals (They have the RV and site already set up)
pool with slides
Splash Pad
Water boat rentals
Pet-Friendly
Mini Golf
Many activities like Tie-Dye Shirts, family movie night, DIY Slime, Storytime with Santa Clause and museum more! There is a small fee for some activities.
Golf Cart Rentals – The resort is huge so you can rent golf carts. Plus after dark there was a golf cart parade that went past our cabin. They had them all decorated with lights and different themes. It was really cool!
Click here to check out all the amenities.
About our Cabin:
From the moment we pulled up the driveway we were incredibly excited about our stay in our cabin. The cabin could sleep 8 people and had a fully equipped kitchen, living room, TV with cable, internet, and a gorgeous deck. The deck had a picnic table, grill, and lounge chairs. There were even strings of Christmas lights you could use to light up the night as you hung out outside.
The beds were very comfortable, and the air conditioning was super cold! We all slept great in our cabin. The kids didn't want to leave. We could have cooked meals in our cabin. We ran to the Dollar General near the entrance of the resort and grabbed some ice cream, cereal, and milk for our stay.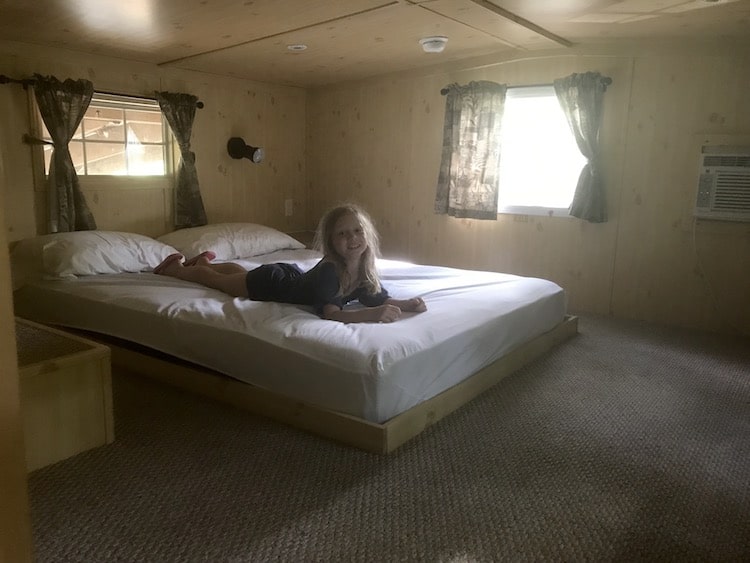 Please note – you will need to bring your own blankets to the cabins. The beds have a bottom sheet and pillows. But everything else was available like dish soap and paper towels.
We only stayed for 1 night, but we really want to go back for a few days and take advantage of all the amenities at the campground. It would be a really fun place to stay with friends and family. Make plans to visit Santa Clause, Indiana and book a few nights in a cabin or RV (if you don't want to camp in a tent or have your own RV) at Lake Rudolph Resort! Book your stay NOW at Lake Rudolph!