This blog post is packed with great information including Volcano Bay rides by height + find out how to get a free ticket! This is our favorite water park ever!!
Did you know there are three separate theme parks at Universal Orlando Resort? Universal Studios Florida is all about TV shows and blockbuster films. Adjacent to Universal Studios is Universal's Islands of Adventure, where you find attractions based on your favorite superheroes, mythical creatures and more. Next to Islands of Adventure is Universal's Volcano Bay, the most amazing water theme park in Orlando.
It really is my favorite water park – and I have been to many of them since I grew up in Florida! This is a theme park you must visit!
Universal Orlando Resort – 3rd Park FREE
For a limited time, when you book Universal Orlando Resort vacations with Get Away Today, you can enjoy admission to your 3rd Park FREE. That means you can add Universal's Volcano Bay to your Orlando vacation at no additional cost. I've shared a little bit about Universal's Volcano Bay before, but today I'm going to tell you all about the attractions that make it a family-friendly vacation destination.
Universal Orlando Resort – Attractions
There are 19 Volcano Bay rides with thrill levels ranging from 0 – Volcano. You'll find everything from low-splash play areas perfect for babies to drop-slides that race you along 125 feet of water tubes.
Photo Credit: Universal Orlando Resort
Volcano Bay Rides for All Ages:
Waturi Beach – This is the first experience you see when you enter Volcano Bay. Waturi Beach is where you can lounge and enjoy gentle surf.
Photo Credit: Universal Orlando Resort
Tot Tiki Reef – This Reef is perfect for babies and toddlers. There are fountains, a miniature volcano and even singing whale statues.
Puka Uli Lagoon – Chill in the leisure pool, which offers fun with water drums, fountains and more.
Kopiko Wai Winding River – Fun for all ages, this lazy river lets you float, splash and gaze at the night sky in Stargazer's Cave.
The Reef – In The Reef you can splash and play in the pool with a view of the Body Plunge ride.
Photo Credit: Universal Orlando Resort
Runamukka Reef – This reef mimics coral reefs in nature, and is another fun splash and play area for all ages. There is shade, play structures and even seaweed.
Photo Credit: Universal Orlando Resort
Volcano Bay Attractions for 42 Inches and Taller
Punga Racers – Mats designed like manta rays race riders through underwater caves. Four slides race, and the winner gets sprayed in celebration.
Photo Credit: Universal Orlando Resort
Krakatau Aqua Coaster – Krakatau Volcano is the central feature of Volcano Bay, and it boasts a water coaster that takes guests around and through its caverns. Climb aboard a four-person canoe for the ride of a lifetime!
ika Moana of the Honu ika Moana – Another multi-person ride, hop aboard a tube with four other riders for twists, turns and geyser sprays.
Puihi of Maku Puihi Round Raft Rides – Mimicking lava tubes, this raft ride is another multi-person experience so the whole family can splash and ride together. You'll raft through dark caves and catch air before landing in the pool below.
Maku of the Maku Puihi Round Raft Rides – Groups of six raft through a volcanic gorge that features spins and water sprays.
Raki of Taniwha Tubes – With two different tracks, each dotted with tiki statues that spray jets of water at riders, this tube ride is a blast.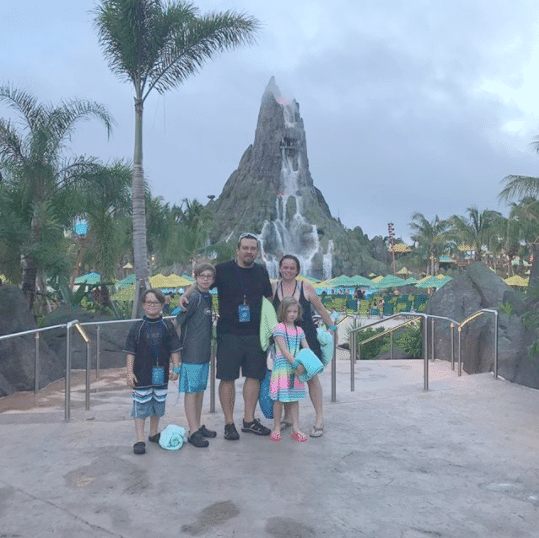 Volcano Bay Attractions for 48 Inches and Taller
TeAwa The Fearless River – This is a white-water experience for guests in life jackets. Float along the river, cresting waves and dodging sprays.
Kala & Tai Nui Serpentine Body Slides – Before cruising down this slide, you'll be dropped through a trap door! It feels like leaping right off the volcano, although you're really just slipping and sliding to the pool down below.
Ko'okiri Body Plunge – Much like the Body Slides, this one starts with a thrill! You're dropped at 70 degrees through a trap door to the slide. Watch out for the volcano god Vol as you continue to race down this slide to the pool.
Honu of the Honu ika Moana – Volcano Bay is based on the fictional Waturi people. This ride mimics the journeys they would take on the backs of sea turtles. Your four-person raft glides through twists and turns decorated with images of turtles.
Photo Credit: Universal Orlando Resort
Tonga of Taniwha Tubes – Designed to look like puka trees, these slide tubes organically curve toward the pool.
Ohyah of Ohyah & Ohno Drop Slides – Before sliding to the pool below, you first climb a cliff to the top. Right before you reach the pool, you'll drop four daring feet!
Ohno of Ohyah & Ohno Drop Slides – Much like Ohyah's slide, you have to go up before you can come down. Cross the rope bridge before being dropped onto a slide that takes you to the pool waiting below.
Universal Orlando Resort – TapuTapu Bands
Photo Credit: Universal Orlando Resort
Did you know there are no real lines in Volcano Bay? To give you more time to play in the pools, grab a bite to eat and lounge in the shade, Volcano Bay uses TapuTapu bands for virtual lines through the water theme park. You're given this waterproof TapuTapu band when you enter the park, and it is your tool for tapping into virtual lines for every ride.
There is a totem at the queue area of each ride, and with a tap of your TapuTapu band you're virtually in line for your turn. While you wait you can hop in the pool, wend your way through the lazy river or enjoy a meal at one of the restaurants. Your TapuTapu band vibrates when it's time to head to the ride. But that's not all TapuTapu bands are used for in Volcano Bay!
TapTu Play – Use your TapuTapu band to interact with spraying features, water fountains and more throughout Volcano Bay.
TapTu Snap – Look for designated selfie-spots in Volcano Bay, and then use your TapuTapu account to access photos from your day. Ride photos and selfie-spot photos are linked to your TapuTapu band so you can view and purchase as you please.
TapTu Pay – Don't you hate carrying around a wallet at a water park? At Volcano Bay you simply use the TapuTapu band to charge purchases! No more running back and forth between a locker every time someone needs a snack!
TapuTapu Lockers – Speaking of lockers, you use your TapuTapu band to open a locker in Volcano Bay. There are multiple locker areas throughout the park, and you'll simply tap your band to a sensor to see your locker pop open.
Universal Orlando Resort – Dining
While you can bring in your own food and drink to Volcano Bay, there are a number of refreshing dining options you won't be able to resist!
Whakawaiwai Eats – Located near the lazy river, there are lunch and dinner menu items at this quick-service dining vendor. From BBQ chicken to salads, it's here!
Kohola Reef Restaurant & Social Club – Located by the seating area on the shores of the bay at the bottom of the volcano, this quick-service vendor serves lunch and dinner plus a variety of snacks and drinks.
Bambu – Here you'll find lunch, dinner and snack options. With full-service dining, you can enjoy everything from craft burgers to salads.
The Feasting Frog – Located near the Raki of Taniwa Tubes and shaped like a frog, you can't miss this vendor! Find lunch, dinner and snack options here, including a variety of tacos and lots of guacamole.
Dancing Dragons Boat Bar – This canoe-shaped bar is near the seating area at The Reef. This bar offers lots of refreshing drinks and snacks.
Kunuku Boat Bar – Located by the Krakatau Aqua Coaster, there is a wide variety of specialty drinks, both frozen and not, as well as snacks.
Click here to view Volcan Bay Hours.
We loved our family vacation to Universal Orlando!
Check out some of my blog posts about our trip:
Universal Orlando Resort – Book with Get Away Today
When you book a Universal Orlando Resort vacation with Get Away Today by December 2, 2019, you can enjoy admission to your 3rd Park FREE. Just complete your travel by May 22, 2020* with either Base Tickets or Park to Park Tickets.
You can see all Universal Orlando Resort vacation packages at www.getawaytoday.com, or talk to a travel specialist at 855-GET-AWAY. Be sure to let them know Saving You Dinero sent you!
*Blackout dates of December 26 through and including December 31, 2019.