This is a sponsored post written by me on behalf of Purina®. All opinions are 100% mine.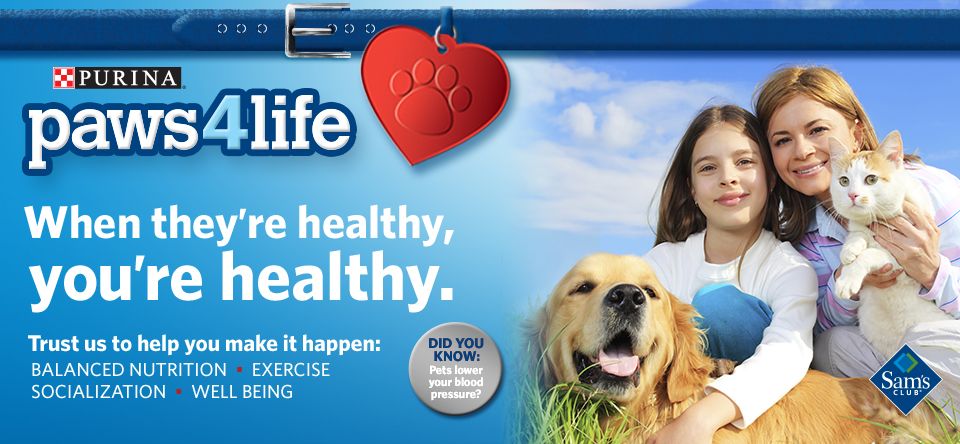 A pet is more than just an animal that lives in your house. They become part of your family, a playmate and best friend for your child. Everyday they bring you joy and comfort – they can help you feel safer. Taking care of your pet is as important as taking care of yourself.
Pets have proven to increase your health and happiness while promoting socialization, patience and motivation. Sam's Club wants to help increase the health of every member and their pets. Purina® makes great food for you to feed your dog.
Purina® prides itself on producing healthy, nutritious pet food products, providing all the nutrients your pets need. As part of this passion, Purina® and Sam's Club are hosting the Paws 4 Life Pledge. You can go online and take the pledge to live a healthier lifestyle as well as give your pet one too. Your pet has always been there for you, so it is time to be there for them because a happy pet is a healthy pet.
I am taking the pledge and I hope you will join me! I have shared it on Twitter and Facebook. It's so easy.
I love being a Sam's Club member and buying my Purina® pet products from Sam's Club. It saves me so much time and money. I love to buy items in bulk becuase they are cheaper and since they last a long time, I don't have to go to the store so often. If you are like me, I tend to buy things that aren't on my list that I don't really need. So if I don't have to go shopping, I am spending less money.
So make sure you add Purina® pet products to your Sam's Club shopping list and make the pledge to live a healthier lifestyle as well as give your pet one too!