This shop has been compensated by Collective Bias, Inc. and its advertiser. All opinions are mine alone #FreschettaFresh #CollectiveBias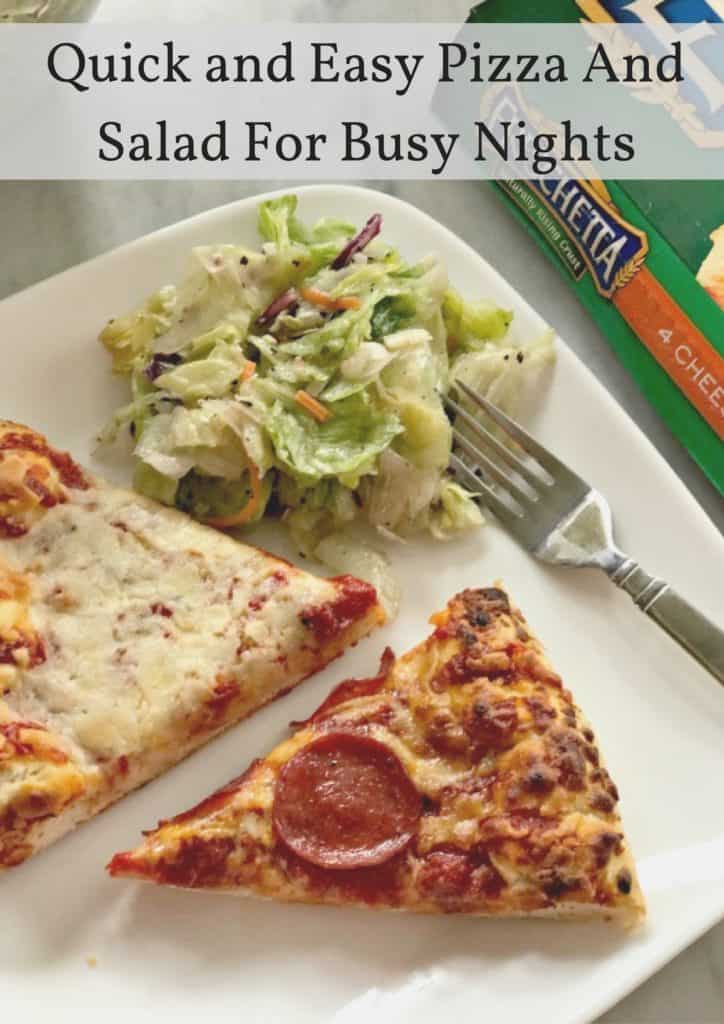 If you have kids, you know that when they are involved in after-school activities, you are going to be pressed for time when it comes to making dinner. I have 3 kids, and I don't know how we still manage to have dinner together every night. This is what my week looks like:
Monday – Oldest is at a club until 5:30pm
Tuesday – Oldest goes to an art club, and needs to be picked up around 6pm
Wednesday – Youngest child has gymnastics for an hour
Thursday – We have a group that meets in our house from 6:45-8:30pm
My middle child hasn't even started Spring Little League. I can't imagine how crazy our nights will be! Depending on our activity each night, I try to make a meal that makes dinnertime a little easier. For example, when I know I have to pick up one of my kids between 5-6, I try to put something in the slow cooker, so when we get home, dinner is ready.
Since we have people in our home on Thursday, I try to make something quick and easy. I need to get dinner on the table, and it has to be easy to clean up. On these nights, Freschetta Naturally Rising Pizza and salad are on my meal plan. While the Pizza bakes, we can make the salad and get the table set.
My Italian Salad is so simple to make, and your kids will actually eat it. This recipe is from my Grandma. I have been eating it for as long as I remember.
She taught my mom, and my mom taught me. And now I have taught my son how to make it. He's only 11, but some nights he will eat the whole bowl of salad before anyone else gets to it. I have learned to use the family sized bag of lettuce when I prepare this salad so everyone can have a plateful!
Italian Salad
1 24 oz. bag of pre-cut lettuce (or 2 heads of lettuce, chopped)

¼ cup red wine vinegar

2 Tablespoons olive oil

¾ teaspoon garlic powder

1 teaspoon basil

½ cup Parmesan Cheese

¾ teaspoon salt

½ teaspoon pepper
Instructions:
Dump the lettuce into a large bowl.
Add the red wine vinegar and olive oil and mix well with 2 large spoons or tongs.
Add the cheese and spices and mix well.
Serve immediately.
This should make 6 servings – unless you have a salad-loving family.
Knowing that I have Freschetta Pizzas in the freezer and salad in the refrigerator really makes dinnertime less stressful. Freschetta is our family's choice for the best frozen pizza.
It has freshness you can taste. They have a unique dough which makes the dough that rises naturally. I prefer my crust to be thick and Freschetta tastes the best.
You can tell they use fresh ingredients. Their sauce is made with 4 vine-ripened tomatoes, 100% real provolone and mozzarella cheeses. My kids love cheese and pepperoni, but there are several varieties to enjoy:
Freschetta Naturally Rising Canadian Bacon and Pineapple
Freschetta Naturally Rising Pepperoni Pizza
Freschetta Naturally Rising

4-Cheese Pizza

Freschetta Naturally Rising

Supreme Pizza

Freschetta Naturally Rising

4-Meat Pizza

Freschetta Naturally Rising

Sausage & Pepperoni
Eating dinner together is a priority for my family. I do not like to run through the drive-thru and have my kids eat in the car. If your week looks similar to mine, make a meal plan and coordinate your dinners to work for the time you have available. It is possible to have a delicious, fresh dinner even when you are short on time.
Which toppings do you love on your pizza?