Every year my kids ask me about teacher gifts. We love our teachers so we love to give them gifts for Christmas, teacher appreciation week, and more. So I wanted to put together a list of 50 of the best DIY Teacher Gifts!
There are so many awesome gifts you can make for your kids' teachers. Some are super simple and some take a little more work. But I promise your teacher will feel the love because you did something special for them. Christmas is just around the corner – so take a few moments and check out these awesome gifts you can make.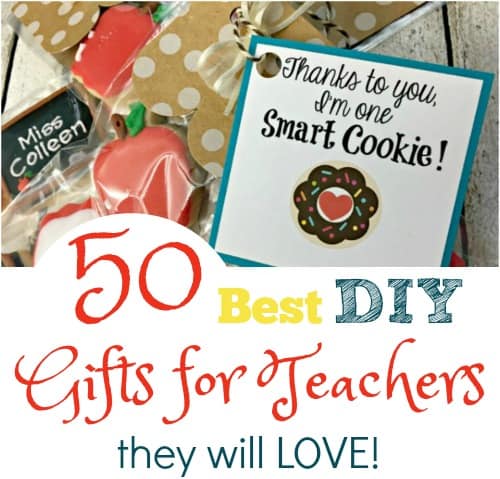 A few years ago I made these Jelly Bean Doughnuts for our teachers and I also included the things to make the doughnuts as a gift basket. It was a really fun gift!
You can also put together some of these gifts for your Sunday School teacher and neighbors. There are so many great ideas. My kids like to make things and I think it makes it more special when you take the time to create a gift for someone that has invested in your life.
If you have any other tips or ideas about any DIY gifts – make sure you leave me a comment below. We are always looking for gift ideas!
50 Best DIY Teachers Gifts They Will Love