Strawberry Crunch Crumble Recipe
Last year I shared a recipe for Strawberry Shortcake Crunch Cake. It was a delicious cake covered in strawberry crunch topping that tasted just like your favorite ice cream bars.
You added the strawberry shortcake crumbles inside the layer cake, sides, and top of the cake and it was loaded with flavors!
Yes – the homemade version of this tastes like those strawberry ice cream bars that you get from an ice cream truck! It's the outside of the ice cream bar.
The strawberry gelatin mix gives it a nice pink color and strawberry flavor. The best part is that it only requires 3 ingredients! Don't wait for a special occasion to make this cake.
I realized that some people may like to use this shortcake crumble recipe on more than just that cake recipe. So here are a few suggestions.
How to use strawberry crunchy topping
Rice Krispy Treats with the crumble
Chocolate-covered strawberries sipped in chocolate and then rolled in the crumble
Strawberry crunch poke cake
Strawberry shortcake cheesecake cake – Sprinkle the homemade strawberry crunch crumbles on top of the cheesecake or make this as the crust!
Add it on top of your vanilla ice cream sundaes
Turn the cake into strawberry crunch cupcakes
Make a strawberry shortcake with fresh strawberries, top it with whipped cream or cool whip and sprinkle with strawberry crunchies.
Whip up a strawberry cake mix, top with cream cheese frosting, and sprinkle with the crumbles.
You can go crazy with strawberry recipes when it is strawberry season.
Keep scrolling to get to the printable recipe card.
What you need to make the Strawberry Shortcake Crumble Recipe
Golden Oreo Cookies
Small Box Mix Of Strawberry JellO
Melted Butter
How To Make The strawberry crunch crumble
Pulse the Golden Oreos in a food processor on high speed until they are crumbly – it will be a coarse crumb. Or add the cookies to a plastic ziptop bag and smash it with a rolling pin.
In a large mixing bowl, mix together the crumbled Oreo cookies, butter, and the strawberry Jell-O powder.
Set on a cookie sheet lined with parchment paper and let it "dry" for about an hour.
Store the crumble in an airtight container and eat within 1 week.
Use as suggested above or place an even layer around a cake.
Pro Tip – if you are using this to add to a strawberry crunch cake, make sure you put the cake on a pedestal and add a baking sheet under it so that as the small crumbles fall off the cake the baking sheet will catch the crumbles. Or you can place wax paper under the plate so you can catch it and reuse what falls off.
Next time you go to the grocery store grab all the ingredients to make this quick homemade strawberry crumble recipe.
3 Ingredient Strawberry Crunch Crumble Recipe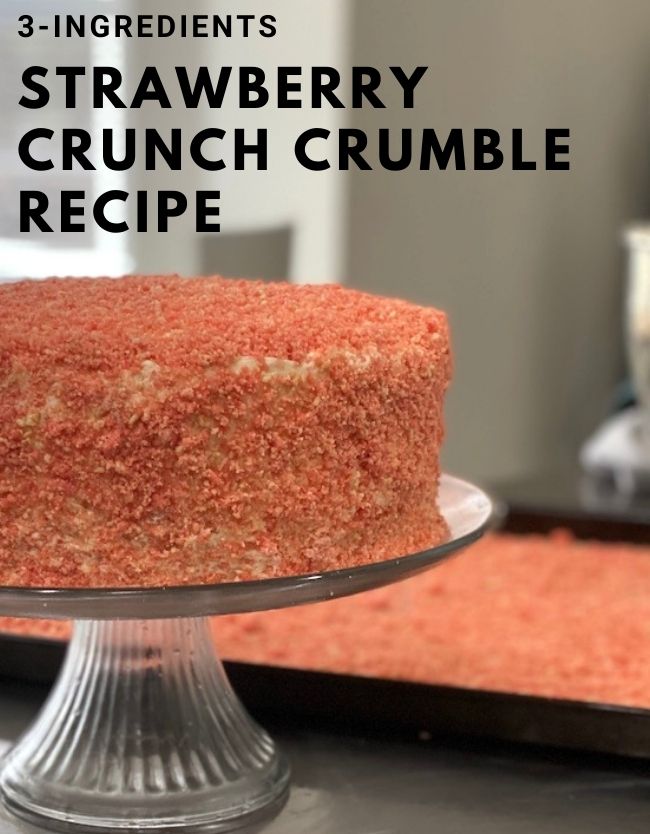 Make this easy, 3 Ingredient Strawberry Crunch Crumble Recipe and enjoy it on cakes, ice cream, and more! It tastes like strawberry shortcake!
Additional Time
45 minutes
Ingredients
18 Golden Oreo Cookies
4 Tablespoons Butter, melted
3 Tablespoons Strawberry Jello
Instructions
Pulse the Golden Oreos in a food processor until they are crumbly.
Mix together the crumbled Oreos, butter, and the strawberry Jell-O powder.
Set on a cookie sheet lined with parchment paper and let it "dry" for about 45 minutes - 1 hour.
Store in an airtight container up to 1 week.
Looking for more Strawberry recipes?