This is an easy homemade trail mix recipe for kids with M&Ms! It has just a few ingredients and you can customize it! It's a little sweet and could be made nut-free. It's not the typical Chex trail mix! And it's cheap if you stock up on cereal!
In my house, we eat a ton of cereal. We eat if for breakfast, lunch, and dinner. And most nights it is a pre-bedtime snack. So whenever I am in Walmart I buy a few boxes so we never run out.
This is usually a great idea but we are moving next month and I have a few boxes of Quaker® Life Cereal and I really don't have the luggage space for cereal.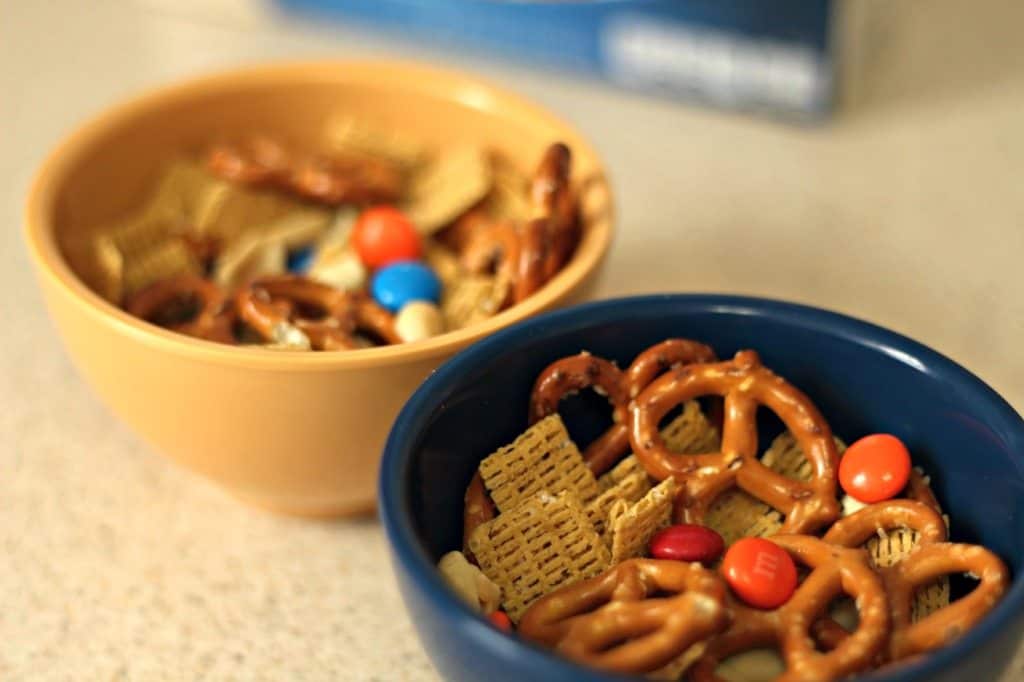 I love a good challenge. When I have too much of a product and I need to use it up, I can get very creative. Plus it is a really great way for me to save money because I need to use the items I already have in my house. It's a cheap trail mix recipe.
I have 4 boxes of Quaker® Life Cereal in my house, and I just don't think we will be eating that much cereal in a few weeks.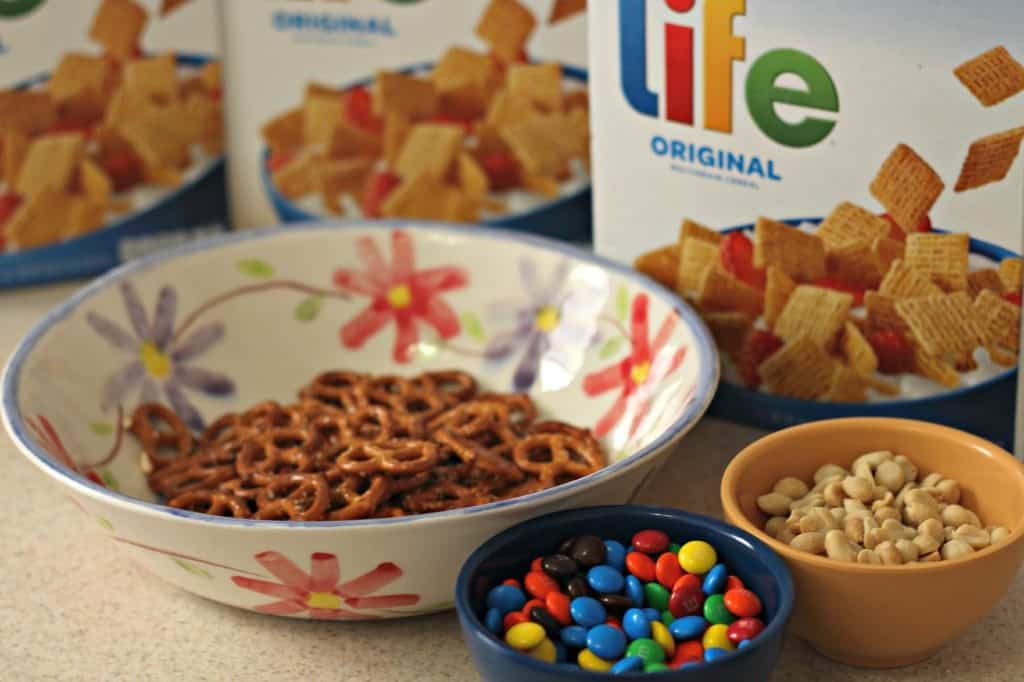 When we were out shopping the other day at Walmart, my kids were begging me for trail mix. At that moment I realized how I can use up some of the Quaker® Life Cereal.
We were going to make our own easy trail mix recipe with Quaker® Life Cereal. And this was going to be better than the store-bought version because we can customize it. (None of my kids eat the raisins!)
My kids loved this. It's easy to eat and it doesn't make a mess. Many people like to make a Chex trail mix recipe – but I love the texture and the sweetness of the Life Cereal.
I love that it is so easy to customize. Can you believe I have a child that doesn't like M&Ms!?! After a quick peek into the pantry I realized I had some white chocolate chips that I had leftover from a cookie recipe.
I made him a batch of the trail mix with the white chocolate chips and he was happy. All my kids said it was the best snack ever!
Feel free to double or triple the recipe if you have a bigger crowd to feed!
Trail Mix Recipe With Quaker® Life Cereal
2 cups Quaker® Life Cereal
2 cups Pretzels
1 cup salted peanuts
1 cup M&M's (or white chocolate chips)
Instructions:
Combine all the ingredients in a large bowl and mix well. The M&M's usually fall to the bottom so you will need to mix it up after each serving.
Store in an airtight container.
This is going to be a great snack for us to bring with us on the airplane when we travel. It will also be a great hiking trail mix recipe.
Have you ever used Quaker® Life Cereal in a recipe?
Here are some more of my kid-friendly recipes: