This is a sponsored conversation written by me on behalf of Dr Pepper®. The opinions and text are all mine.
I love summer! I love long days of sunshine, sleeping in, and having people over for spontaneous BBQs! We really enjoy having people over for dinner, so I always make sure my house is ready for a party!
Here are a few tips to help you throw an epic summer bash
First, make sure you have paper products. I can spend more time hanging out with guests when I don't have to worry about cleaning dishes. We go through so many plates and plastic ware – between all the delicious foods and desserts we eat.
Next, have a go-to meal! We like to have a marinated London Broil (made with Dr Pepper) or Hawaiian Chicken Kabobs when guests come over. They are easy to throw together and I always have the ingredients in my house for this meal.
Bonus – if your guests ask to bring something always ask them to pick up the side items or desserts. It's one less thing you have to make!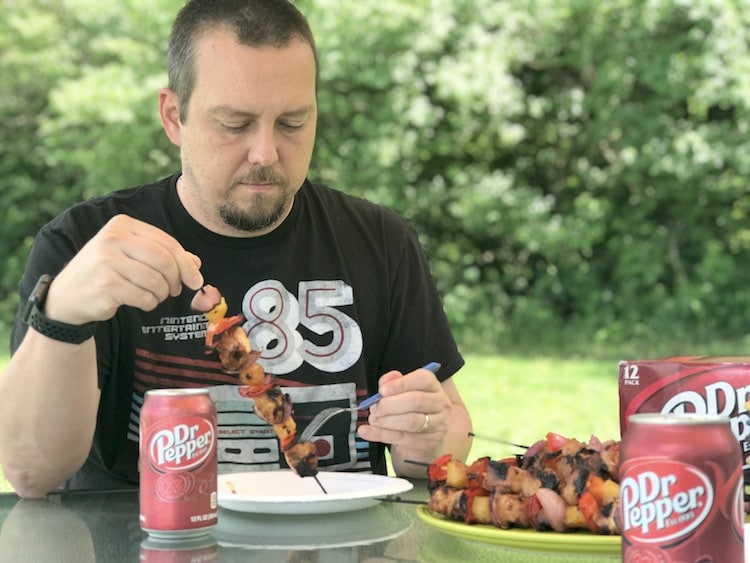 Don't forget the refreshments! We have a refrigerator outside and it's full of water and Dr Pepper. It's refreshing and delicious and always the most popular drink at parties.
Printable Recipe for Hawaiian Chicken Kabobs
Hawaiian Chicken Kabobs
1/2 cup ketchup
1/3 cup canned pineapple juice
1/2 cup packed brown sugar
1/2 cup low-sodium soy sauce
5 teaspoons minced ginger
6 garlic cloves, minced
2 tablespoons olive oil
2 1/2 tablespoons rice vinegar
3/4 teaspoons sesame oil
2 pounds boneless, skinless chicken breast, chopped into 1 1/4-inch cubes
1 large can pineapple chunks (Use the juice in the marinade)
1 large green peppers, chopped into 1 1/4-inch pieces
1 large red onion, chopped into 1 1/4-inch pieces
Instructions
Soak 10 wooden skewer sticks in water for 1 hour.
In a bowl mix together ketchup, pineapple juice, brown sugar, soy sauce, garlic, ginger, olive oil, rice vinegar, and sesame oil.
Place chicken in a large container and cover with the marinade, reserving 1/2 cup of the marinade in refrigerator.
Marinade for about 45 minutes. (Tip- don't marinate for more than 90 minutes because the acid in the pineapple juice will break down the chicken.)
Assemble your kabobs. Don't let the chicken touch the pineapple when you make the kabobs. You can add onion, chicken, pepper, pineapple, and repeat. I do 3 of each on a skewer.
Preheat a grill over medium heat to 400 degrees. Add some reserved marinade along the top of the kabobs and grill for 5 minutes and then rotate them. Brush the remaining mixture over the kabobs and grill 4-5 minutes longer, or until chicken registers 165 degrees in the center on an instant-read thermometer.
Your party will be the talk of the neighborhood! This would also be really good over a bed of rice. Or you could get something as easy as chips to serve with your meal.