This is a sponsored post written by me on behalf of Visit Indiana for IZEA. All opinions are 100% mine.
We love living in Louisville, Kentucky. It is a short drive to so many cool cities! We have made it a goal to take a few quick weekend trips every year to explore new cities as a family. It gives us some time to hang out unconnected and experience new attractions and foods!
We only stayed for a night, but we managed to squeeze in a lot of fun! We arrived early afternoon on a Friday and parked our car at the hotel, Embassy Suites Downtown Indianapolis. It was too early to check in, so we took a short walk to check out Monument Circle.
Check out the observation deck at the top of Soldiers and Sailors Monument. Admission is Free if you walk the stairs or $2 to take the elevator ($1 for kids age 6 – 18). The Soldiers & Sailors Monument also houses the Colonel Eli Lilly Civil War Museum on the lower level and a small gift shop at promenade level.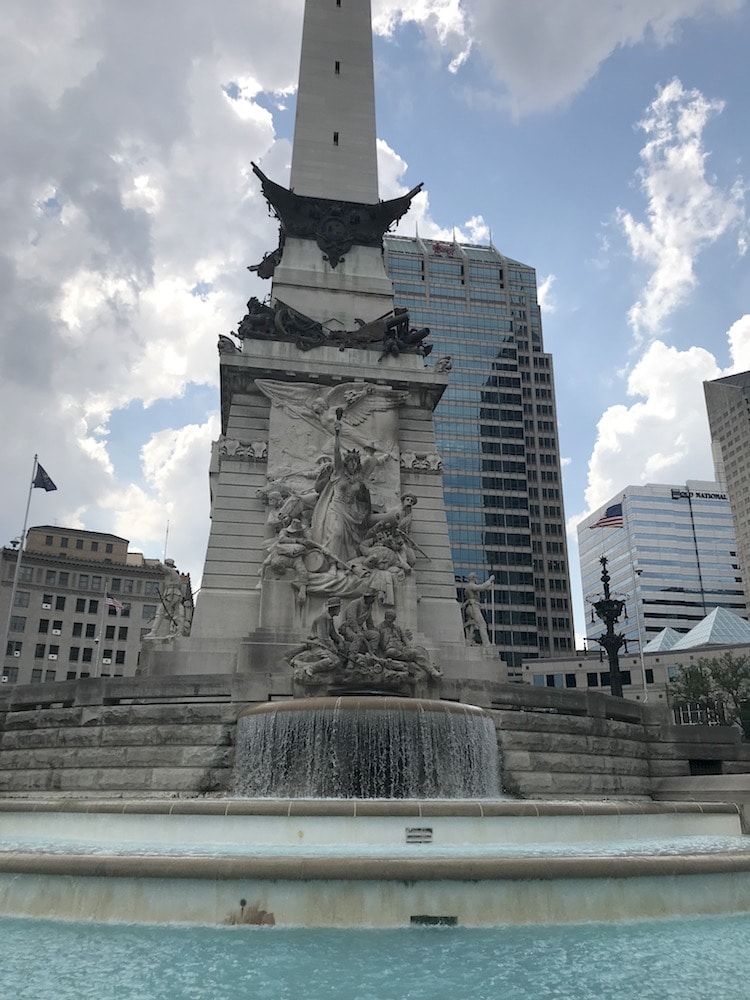 The Monument has 4 different sides that are amazingly created to share details from the wars and soldiers who fought in these battles. It's a very cool monument that you must see!
Just a few blocks from Monument Circle is the Indianapolis City Market. It is home to over 25 locally-owned and operated small businesses. With ethnic eateries, from-scratch snacks, boutique goods, and more – there's something for everyone! We stopped by for lunch. My son and I had pizza from Mauricio's Pizzaria – it was a giant piece of thin, New York pizza and it tasted really good. My husband and other son had a HUGE pulled pork sandwich from Gomez BBQ. The sandwich was overflowing with meat, and their cole slaw was really unique. My husband doesn't like coleslaw, but he liked the one served with his pulled pork sandwich.
The building is beautiful. If you are in Indy on a Wednesday, you will want to check out the Original Farmers Market. The Original Farmers' Market runs every Wednesday, 9:30 a.m. – 1:30 p.m., May through October.
Perfectly situated in the heart of the Midwest, Indianapolis is ripe with farmers offering outstanding produce, dairy products, meats, and more! Through the Original Farmers' Market we bring them straight to you at the Indianapolis City Market. From fruits and vegetables and meats and cheeses, to baked goods and unique spices and herbs, you can find in-season, fresh foods that have been selected at their peak. As you fill your basket with good-tasting, healthy foods, you'll support the local growers dedicated to providing you with the freshest foods available.
TIP – the market slows down in the afternoons and a lot of the restaurants close around 3 pm. Plan to get there early to enjoy a quick and delicious meal.
Traders Point Creamery
Since we had a late lunch, we hopped in our car and drove about 20 minutes to Traders Point Creamery. Their goal is to produce the most nutritious and healthful product possible.
Grab a meal at The Loft Restaurant. It is a farm-to-table restaurant with a strong, organic emphasis. You can grab a meal for lunch or dinner.
If you are looking for delicious ice cream, you want to order ice cream from The Dairy Bar. The ice cream is made from organic, 100% grass-fed milk and cream. My kids had a chocolate, and orange dreamscicle milkshake and my other son had a chocolate ice cream cone. My husband and I shared their Toffee Sundae. It was loaded with vanilla ice cream covered in chocolate an caramel syrup topped with the most delicious toffee pieces! In fact, the toffee pieces were so amazing we went back into their store to purchase a jar of the almond toffee pieces.
You can find lots of delicious items in the Farm Store from meats and cheeses, honey, cutting boards and soap. My daughter had to have a bar of lemongrass soap to keep in her bathroom because it smelled so good!
Next time we visit I want to have a meal at their restaurant.
The night was still early so on the way back to our hotel we stopped the check out Spectacular Creatures at Newfields. As you arrive, you see gigantic snails made of recycled materials sliding up the sides of the museum. There are more inside and through the museum. But the real fun is in the garden.
The garden is full of creatures that are all made from recycled materials. They were as big as adults and so colorful. Newfields has teamed up with the Italian art collective Cracking Art to welcome hundreds of animals to the Newfields campus this summer. These brightly colored sculptures are made from recyclable plastic and speak to the environmental issues that face our planet, as well as how the world is becoming increasingly artificial.
See snails in the Efroymson Family Entrance Pavilion and penguins inside the IMA Galleries, before exploring The Garden where you will have to watch out for giant alligators on garden pathways and elephants inside the Lilly House. My daughter loved doing cartwheels in between the line of foxes in the garden.
We spent about 2 hours walking through the art museum and the outside garden. Plan to go later in the day, so you stay cooler while outside. They don't close until 8 pm.
That was the end of day 1! We had a full day, so we headed back to the hotel to relax.
On Saturday we went to The Children's Museum of Indianapolis. It is the largest museum in the world! They have a new permanent exhibit called The Sports Legends Experience. It's an indoor and outdoor area filled with sports. We played many sports like tennis, hockey, golf, baseball, basketball and more. It was a great experience for my kids to play all different sports.
Inside they had interactive areas where you could be a play by play announcer, do a newscast, see how sports and art connect, and different historical sports figures.
TIP – Bring a backpack with some water bottles. It gets hot outside!
The Sports Legends Experience at The Children's Museum of Indianapolis is open from 10am-8pm. You can pay for admission to the Children's Museum and have access to the whole museum plus the Sports Legends Experience. Or you can go from 5pm-8pm to experience just the Sports Legends Experience. The cost is about half of the regular admission, and it's a much cooler time of the day. This ticket will get you:
12 outdoor sports experiences
3 indoor sports exhibits, including the National Art Museum of Sport
If you make plans to visit, the whole museum buy your tickets in advance online. The prices fluctuate, and you will pay more the closer you get to the date you want to visit.
Park your car and get around with bikes from Indiana Pacers Bikeshare. Buy your Day Pass, Monthly Pass or Annual Pass!
With 29 stations and 251 bikes, the Pacers Bikeshare bikes are available to anyone with a 24-Hour Pass, Monthly Pass or Annual Pass. Purchase a 24-Hour Pass at any bikeshare station kiosk or a Pass online. All stations are located on or near the Indianapolis Cultural Trail: A Legacy of Gene and Marilyn Glick.
Named the "Biggest and Boldest Step by any American City," the Cultural Trail transformed downtown Indianapolis into a mecca for walkers, runners, and cyclists and has inspired countless cities across the country through its world-class design.
Where to stay:
The Embassy Suites In Downtown Indianapolis is a fabulous hotel for families. It sleeps 6, and the room is huge. We loved that there were 2 TVs! The location is awesome. You can walk to so many attractions. It's even attached to a mall.
Staying at an Embassy Suites saves you money on food! They have an evening reception from 530pm-730pm, and the breakfast is the best of any hotel I have stayed out. I had a made to order bacon, egg and cheese omelet for breakfast and strawberry shortcake pancakes. They also had cereal, yogurt, fruit, oatmeal and more. You will not leave this breakfast buffet hungry!
Now you can Plan Your Trip to Indy! You will love your time in the city. We can't wait to go back!