If you are looking for Hotels In Branson – you have found all the information you need for a really great vacation! Stay At The Stone Castle Hotel Conference Center.
As a mom, it's my job to search for the best hotels in Branson Missouri when planning a family vacation. Normally I just pick a chain hotel because I know what to expect. Sometimes they cost more and don't have as many amenities, but like many people, I don't like the unexpected.
Hotels In Branson – Stay At The Stone Castle Hotel Conference Center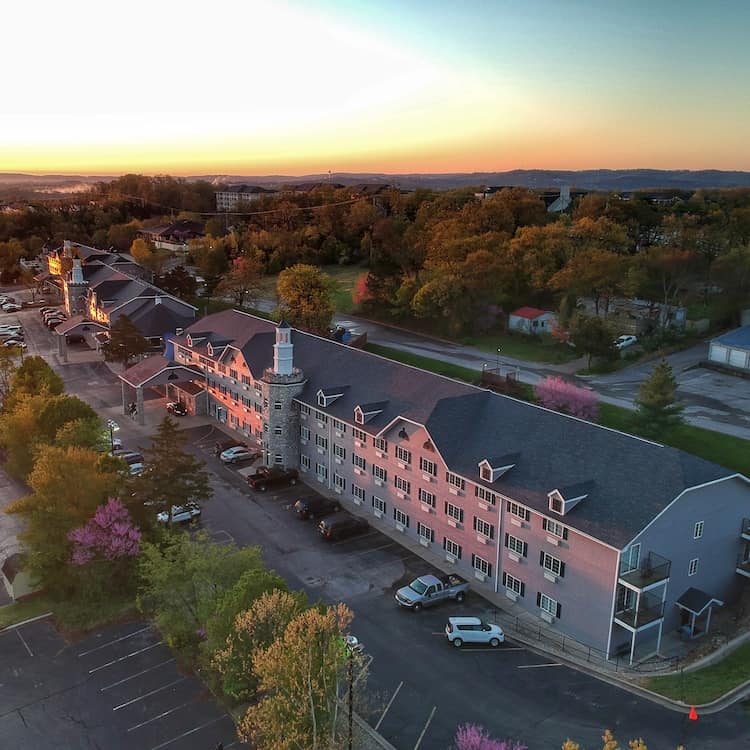 I had the opportunity to visit Branson Missouri and stay at the Stone Castle Hotel and Conference Center. It was the perfect hotel and it was so affordable. (Mom's – this hotel is going to make you look like a rockstar and save you some cash!)
Excellent Location
Stone Castle Hotel and Conference Center is located off the main strip but close to everything. Because it's away from all that traffic, it's very quiet. You could walk to a few places but it's also a very easy drive to get to the many popular tourist attractions and restaurants.
Comfortable Rooms
They have a standard room and unique rooms.
Each unique room suite has a fun theme. We had the Winery-themed room with paintings on the wall. Make sure you check out all the themed rooms.
I usually don't sleep well when we travel. I don't have my pillows and the bed is just not the same. I slept so well at the Stone Castle Hotel The pillow-top beds were extra comfortable and the bedding was soft and we even loved the pillows.
Photo Credit: Stone Castle Hotel Conference Center
The rooms had a separate vanity from the shower/bath and toilet so people could still get ready while another person was using a shower.
We had a suite that was huge – almost 400 sq ft! There was a queen-sized bed, 2-night stands, a dresser with a TV, a chair with an ottoman, a table with 2 chairs, and a large jetted tub. Our room also included a balcony refrigerator and microwave. We had plenty of space in that room.
Photo Credit: Stone Castle Hotel Conference Center
Camelot – Experience old-world charm in Camelot, the legendary castle and court of King Author's realm!
Captain's Quarters – Sail the seven seas on an adventuresome nautical voyage as captain of the ship!
Clay Cooper's Crib – Welcome to Clay Cooper's Crib! This charismatic suite was designed by Clay and his wife, Tina, and is described as 'modern Texas' style! (Make sure you check out his show too!)
Dolly Parton's Stampede – The excitement of Dolly Parton's Stampede will remain during your entire Branson stay in this fun and lively family suite!
Standard room features include: pillow-top comfort beds, hypoallergenic pillows, free Wi-Fi internet access, toiletries (shampoo/conditioner and lotion), alarm clock, iron, ironing board, hairdryer and coffee maker, coffee, refrigerator, and remote-controlled flat-screen TV, and cable television with 68 channel choices. All floors are accessible via elevator. Assist support bars are installed in every bathroom in any type of room.
Amenities
Free Full Hot Breakfast!
Every morning you can head to the dining room and enjoy a full breakfast! When we were there we enjoyed eggs, hashbrowns with ham and cheese, waffles, sausages, muffins, oatmeal, cereal, and biscuit and gravy. Plus juice, milk, coffee, tea, and water.
This free breakfast will save your family a lot of money and time so you can fill up and get out to go explore Branson.
Outside the dining hall, you will find a great place to hang out and enjoy nature. A path alongside the stream leads to a picnic or gathering spot above the water garden pond.
Photo Credit: Stone Castle Hotel Conference Center
Indoor Pool and Hot Tub
If you want to spend some time relaxing you can go for a swim or take a dip in the hot tub. You will find a pool and hot tub on the ground floor of buildings two and three, complete with towels and chairs for the perfect Branson vacation.
You will have plenty of time to explore Branson and spend time in the pool because the pool hours are 7 AM- 12 AM, seven days a week.
Photo Credit: Stone Castle Hotel Conference Center
Arcade
The Track Family Fun Parks has provided many arcade games that are located inside the Stone Castle Hotel. My husband was very excited to find a Mrs. Pac-Man game.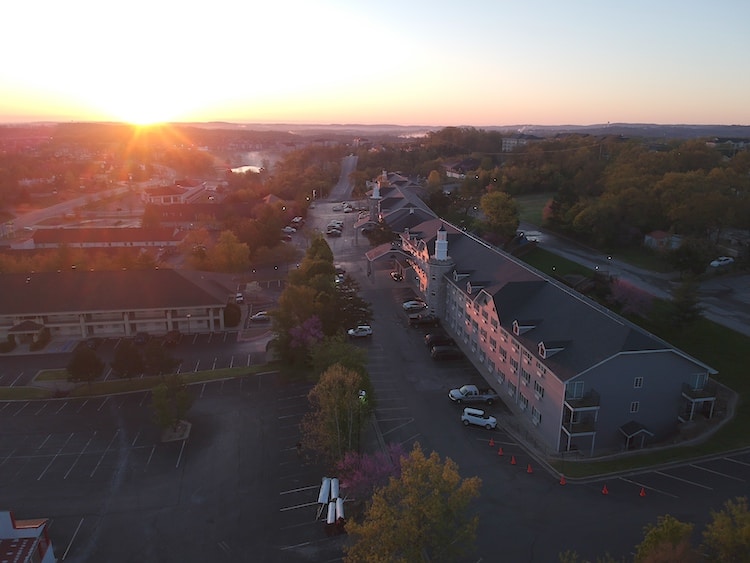 It is so clean!
It is very important to me that my hotel feel very clean. The Stone Castle Hotel was immaculate! Plus it didn't smell like they used a bunch of chemicals to clean the room. The dining room and all the other facilities were very clean.
Stone Castle Hotel is not a chain hotel. It's owned by a few investors and managed by some pretty amazing people. So they really care about making sure you have an amazing place to stay for your vacation.
Every time I visit Branson, Missouri our family will stay at The Stone Castle Hotel! It's the perfect hotel and it's very affordable! Make sure you visit the Stone Castle Hotel website to book your vacation.
When searching for hotels in Branson you will find a lot of information. I promise you will not be disappointed at the Stone Castle Hotel. It's exactly what you are looking for in a hotel! Book your stay at the Stone Castle Hotel and have fun in Branson!
Make sure you follow them on Facebook for current information.
There are many things to do in Branson! Here are a few more attractions you will want to visit in Branson, Missouri: