While in Branson you gotta eat! I have the inside scoop on yummy restaurants in Branson MO! The restaurant can be just as fun as all the attractions in Branson. If you are looking for fun places to eat in Branson – make sure you add Fall Creek Steak & Catfish House to your itinerary in Branson.
There are many restaurants in Branson on the strip – but you will find the Fall Creek Steak & Catfish House just past the strip. When you see the giant steer – you know you have arrived!
Once you get into the restaurant you will be astounded with all the really fun decor. The walls are covered with pictures and signs, there are statues, and there are things hanging from the ceiling! And make sure you look for the Blues Brothers and the coolest booth that looks like an old car.
I could go on and on about all the cool things at Fall Creek Steak & Catfish House but you want to know about the food…
It was delicious! First, we had an appetizer. It was The Awesome Blossom. It's an Ozark favorite! A sweet jumbo onion specially cut, breaded then fried golden and served with a secret sauce. The sauce was so good we needed to ask for more!
Make sure you pay attention because Fall Creek Steak & Catfish House is famous for their tossed rolls. They are so soft and warm that you may want to intercept one from your neighbor. We had a girl that was tossing them while sharing her beautiful voice with us. (Yes, they are unlimited!)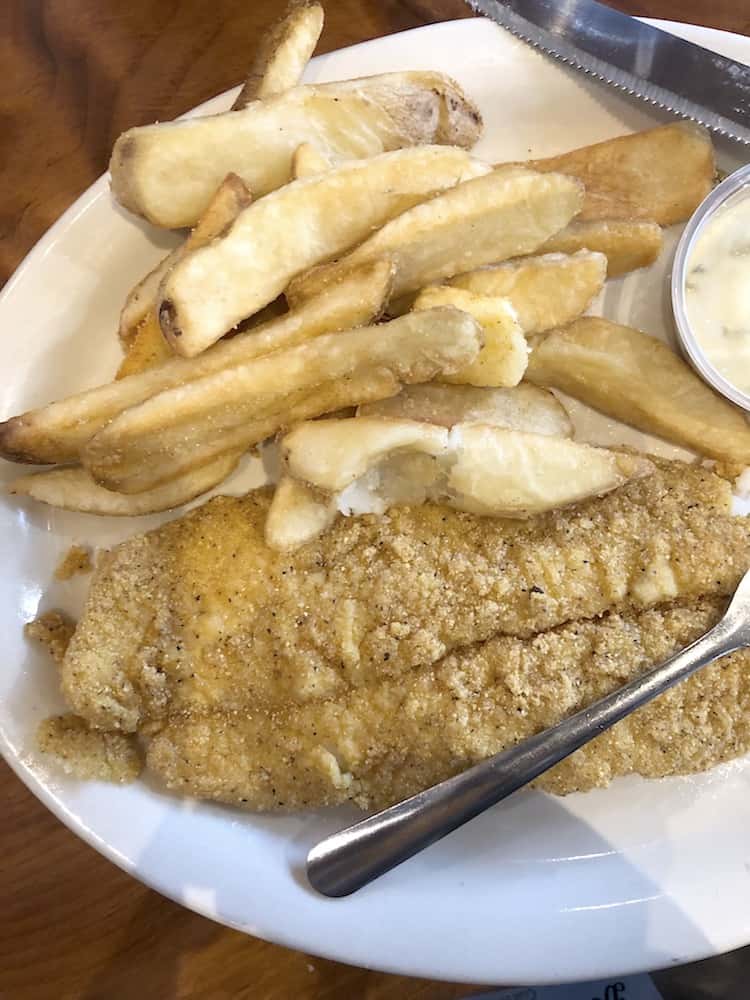 It's so nice to go to a restaurant and find something different on the menu. My husband had the catfish and it was huge! He was definitely full after finishing his lunch. I had the pulled pork sandwich and it was also yummy!
There are so many different things on the menu so everyone in your group will find something they love. It's also a really great place to go when you are traveling with a lot of people.
On your Branson MO vacation – dine at Fall Creek Steak & Catfish House located at:
997 HWY 165
Branson, MO 65616
About Restaurants In Branson MO – Fall Creek Steak & Catfish House:
For over 20 years, the Fall Creek Steak & Catfish House has been a popular dining destination sitting right next to Fall Creek in Branson, Missouri. The Fall Creek Steak & Catfish House is a family friendly, roll tossing, good time!
Come on into the Fall Creek Steak & Catfish House and you just might see Rudy, the resident guitar playing, singing roll tosser serenading someone as they enjoy a delicious meal of steak or catfish, or one of our many other entree options.
Along with other country favorites, the menu here boasts something for everyone. If you are looking for a unique place to dine, Fall Creek offers an antique lover's paradise. The owners have collected these artifacts, from all over the Ozarks and beyond.
As you leave, take a few minutes to check out the country gift shop, you might just find your own treasure to take home. Full of fun and interesting items, it's a great addition to this amazingly fun restaurant.
Need some help planning your Branson MO Vacation?
Must see attractions In Branson: