I discovered this recipe when I had made a cake but I didn't have powdered sugar. I was shocked that I could make vanilla frosting without powdered sugar…and it was so good! It's the perfect light and fluffy buttercream frosting for your next cake!

I discovered this recipe when I had made a cake but I didn't have powdered sugar. The first time I made this I was shocked that I could make vanilla frosting without powdered sugar…and it was so good!
I have made a lot of cakes in the past few months. My kids have birthdays that are pretty close. When we have a party I usually like to make 2 different cakes with 2 different frostings. I like to mix it up and make some kind of frosted cupcake or a frosted cake for the party.
When we have a birthday party I make one cake is something the kids want me to decorate for them (like a princess cake or Minecraft cupcakes and the other is the opposite flavor so all my guests will be happy.
This fluffy frosting is good on vanilla cupcakes but better on a chocolate cake. It reminds me of the filling of a ding dong – it's a very whipped frosting recipe.
I had someone comment that this was the original recipe to frost a red velvet cake until they discovered it also tasted delicious with regular cream cheese frosting
Tips to make this easy recipe for the best frosting without confectioners sugar:
This recipe calls for just a few ingredients and only 1 cup of sugar! That's a lot less sugar when you normally make the icing. Most vanilla buttercream frosting recipes need 8 cups confectioners' sugar.
You will need a stand mixer (or electric mixer) and a medium sized saucepan for this recipe. I would not recommend using a hand mixer but it's possible. It's just a lot of mixing!
This recipe will cover one cake in a 9×13 pan and 24 cupcakes. I haven't tried it on a layer cake using a 8 or 9 inch cake pans, but I think it could work if you spend thin layers.
This is not a good recipe if you want to use a piping bag.
This recipe has a lot of mixing time so make sure you have plenty of time to keep stirring it so you get the best vanilla frosting recipe.
The spreadable consistency is more like a cross between a typical buttercream frosting and a whipped icing.
Fluffy Vanilla Icing
1 cup milk (you could use any kind of milk 2% or whole milk)
5 Tablespoons of flour (yeah you think I am crazy 🙂
1 teaspoon vanilla extract
1 cup of unsalted butter, room temperature (2 sticks)
1 cup of sugar (granulated sugar)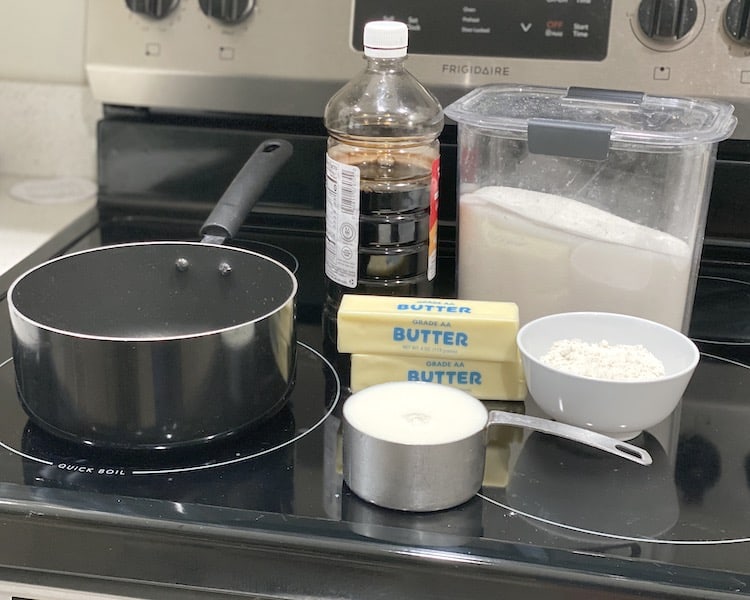 Instructions
In a small saucepan whisk together the flour and milk. Heat over medium heat and constantly stir. It will start to thicken – so much you that you almost can't stir it.
Remove the milk mixture from the heat and add the vanilla. Let it cool completely before you mix it with the butter and sugar mixture. (The best way to do this is to place it in the freezer.)
You will want a stand mixer for the next part. In a bowl beat the butter and sugar on medium-high speed with the whisk attachment until the sugar dissolves. Now I will say that I have done this for about 8 minutes and the sugar doesn't seem to dissolve. But don't worry – it will dissolve a little bit after you frost the cupcakes.
The mixture may start to look white and fluffy. If the sugar still hasn't dissolved, and if the milk and flour mixture is cool, add it to the butter and sugar mixture. Beat it for a few more minutes and it should start to look fluffy – almost like cool whip. Taste it and you will be amazed! ( I have heard that the mixture may separate and this is normal – just keep beating 🙂
This is so fluffy vanilla frosting is so easy and delicious – you will not believe how good it is! It makes about 5 cups of frosting. It's the perfect frosting to make even if you do have confectioners' sugar
The next time I make this recipe I would love to try to add a little cocoa powder to make a chocolate version of this recipe.
Here are some of my favorite cake recipes and icing recipes:
Swiss meringue buttercream
Vanilla Frosting Without Powdered Sugar
Make this Vanilla Frosting Without Powdered Sugar the next time you make a cake or cupcakes. It's so light and fluffy and delicious!
Ingredients
1 cup milk (you could use any kind of milk 2% or whole milk)
5 Tablespoons of flour (yeah you think I am crazy 🙂
1 teaspoon vanilla extract
1 cup of unsalted butter, room temperature (2 sticks)
1 cup of sugar (granulated sugar)
Instructions
In a small saucepan whisk together the flour and milk. Heat over medium heat and constantly stir. It will start to thicken - so much you that you almost can't stir it.
Remove the milk mixture from the heat and add the vanilla. Let it cool completely before you mix it with the butter and sugar mixture. (The best way to do this is to place it in the freezer.)
You will want a stand mixer for the next part. In a bowl beat the butter and sugar on medium-high speed with the whisk attachment until the sugar dissolves. I have done this for about 8 minutes and the sugar doesn't seem to dissolve. But don't worry - it will dissolve a little bit after you frost the cupcakes.
The mixture may start to look white and fluffy. If the sugar still hasn't dissolved, and if the milk and flour mixture is cool, add it to the butter and sugar mixture.
Beat it for a few more minutes and it should start to look fluffy - almost like cool whip. Taste it and you will be amazed! ( I have heard that the mixture may separate and this is normal - just keep beating 🙂