It has been a while since I published new crockpot freezer meals. The weather is starting to cool off, so now is a great time to pull out the crockpot and let it make dinner for you!
We are now up to 40 different crockpot freezer recipes! You could easily double the recipe from each set and have more. Once you have put the bags together you can get it done in less time. I usually throw together 10 dinners in about an hour.
This is the biggest time save in your kitchen. No wasted veggies – when a recipe calls for half an onion, use the other have for a different recipe. My favorite part is just 1 mess! Yes your kitchen will be a mess – but think of all the nights that you will not have a mess in your kitchen preparing dinner. (I can't help you with the dishes 🙂 You could probably get away with paper plates!!
I can also make sure that our family is eating a good dinner and we are not wasting money eating out every time I don't want to cook. I don't have much of an excuse when I have these freezer bags with dinner already done!
One of my favorite things about this way to cook is that even if don't have all the ingredients in my house, I can still get the bags together with most of the ingredients and then just write on the bag the items I need to add.
In case you missed it check out Part 1, Part 2, Part 3, Part 4, Part 5, Part 6 and Part 7 of my 1 Hour + 1 Mess = slow cooker recipes. I apologize that my pictures were pretty bad in the past. I need to go through and re-do the pictures.
Click here for the printable version of the shopping list and recipes.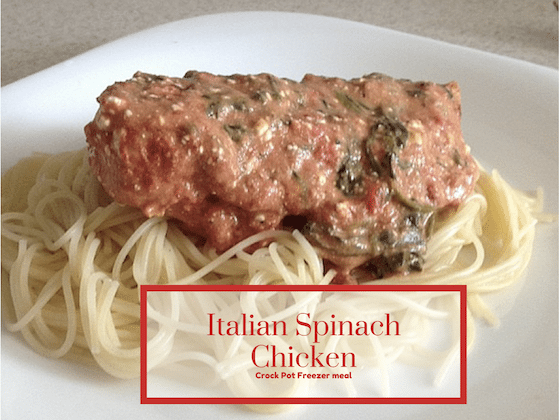 Italian Spinach Chicken
Serves 4-6
1 ½ – 2 pound of boneless, skinless chicken breasts
2 cups Italian tomato sauce (see note if you have plain tomato sauce.)
3 cups fresh spinach
1 8 oz bar cream cheese
Note – add 1 teaspoon of fresh basil ½ teaspoon of garlic and onion powder.
Write on bag – Add 1 8oz bar of cream cheese and 3 cups of fresh spinach 45 minutes before serving. Serve over spaghetti. Cook 4-5 hours on high or 6-7 hours on low.
Instructions – In a large freezer bag add chicken and tomato sauce.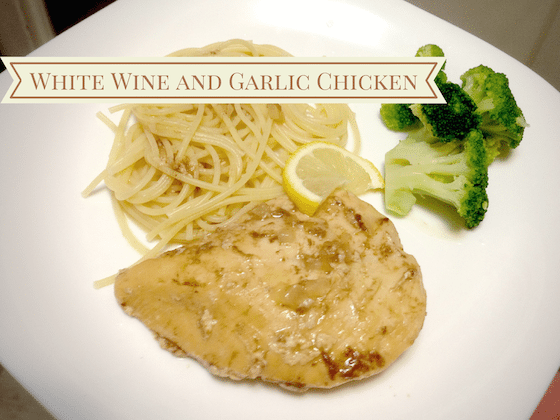 Slow Cooker White Wine and Garlic Chicken
Serves 4-6
1 ½ – 2 pound of boneless, skinless chicken breasts
¾ cups white wine
¼ cups lemon juice
¾ cup water
2 teaspoons chicken bouillon
3 large garlic cloves minced
2 teaspoons Italian seasoning
½ of a white onion, sliced
1 large red bell pepper, diced
salt and pepper to taste
12 ounces pasta
Write on bag – Cook for 4-5 hours on high or 6 hours on low. Serve over your favorite spaghetti.
Instructions – In a large freezer bag add all the ingredients (except the spaghetti).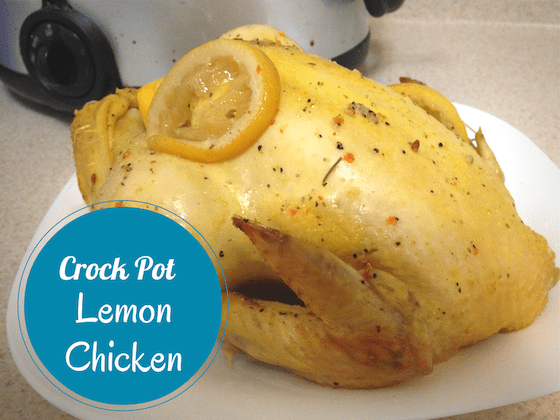 Serves 4-6
2 lemons – 1 juiced other sliced
½ white onion, quartered
2 tablespoons butter, melted
1 .7 oz Italian Salad dressing (powdered mix only)
1 whole chicken
Write on the bag – Cook on low about 6-7 hours or on high for 4-5 hours. (This may vary depending on the size of your chicken.)
Instructions – Place the onion and some lemon slices inside the chicken. Put the chicken in the freezer bag and add the rest of the lemon slices Combine lemon juice, butter and Italian Seasoning and add it to the bag.
Tip – when you cook this meal, quarter a few potatoes and wrap each potato in aluminum foil. Add them to the crock pot and then place the chicken breast side down on top of the potatoes.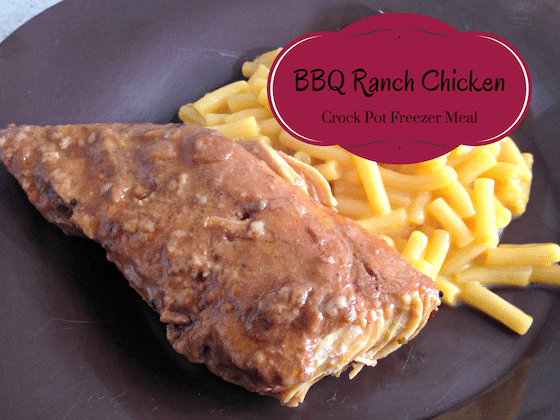 BBQ Ranch Chicken
serves 4-6
2 pounds boneless, skinless chicken breasts
½ cup ranch dressing
½ cup barbecue sauce
Write on bag – Cook on low for 5-6 hours or 3-4 on high.
Instructions – Place chicken, ranch dressing and BBQ sauce in a large freezer bag.
Frito Chili
2 pounds ground beef
1 onion chopped
2 teaspoons chili powder
1 teaspoons ground cumin
1 teaspoons dried oregano
2 garlic cloves, diced
2 cups tomato puree (or diced tomatoes if you prefer)
2 cups water
1 cup salsa
1 beef bouillon cube
1 bag Fritos
optional – shredded cheese and sour cream
Write on the bag – Cook on low for 4 hours. Serve over Fritos with your favorite chili topping.
Instructions – In a pan brown ground beef and onion until beef is browned and onion is tender. Drain off any fat and let cool completely. Place meat and remaining ingredients, except Fritos, into a large freezer bag.
Additional notes:
All Slow Cookers can cook at different temperatures, so please check your food to make sure you have the proper cooking time.
The fuller the slow cooker, the longer it will take to cook your food.
According to the official Crock Pot website, you can safely cook frozen meat in your slow cooker. If you still don't like the idea, you can put the bag in the fridge the night before and it should be defrosted by the morning.
You can use fresh or frozen chicken breasts. (Just don't thaw the frozen chicken first – add it to the bag frozen.)
Never put the plastic bag in the slow cooker. Always dump out the contents to prepare your meal.
When you freeze the bag, make sure the frozen lump (for lack of a better work) will easily fit into your slow cooker.
One reader suggested putting the dinners into slow cooker liners and then into the freezer bag.
You can defrost the bag or you can add it to the slow cooker frozen. The cook times listed above are for frozen foods. You will cook it for about 45 minutes t0 hour less if it is defrosted.
You can also check out my Batch Cook Day!