I was provided tickets to a Chicago White Sox Game. All opinions are my own.
You must add Chicago to your list of places to visit. When we went with our family in July we had so much fun. We had the opportunity to see many sights and eat so much delicious food. We are definitely making plans to go back. It' just a 5 hour drive from Louisville, Kentucky!
One of the highlights was our trip to watch the Chicago White Sox play a game. They play their home games at Guaranteed Rate Field. Our family loves baseball – so it was a pretty amazing experience to watch a game in an outdoor stadium. (We are from Tampa – so the only MLB games we have been to have been in a dome.)
More places to visit in Chicago: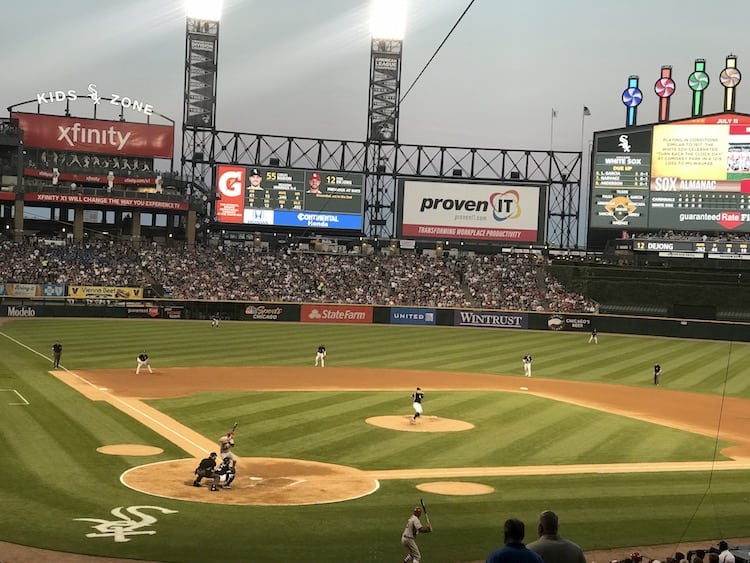 We even had a chance to go on the field before the game.
Guaranteed Rate Field is a gorgeous park. I dont think there is a bad seat in the stadium and the atmosphere was awesome. There were over 26,000 people in the park that night watching the game which made it a lot of fun.
Tip – Fans holding tickets for the 100 Level may seek autographs on the outfield side of the home and visitors dugouts from the time the gates open until 25 minutes before game time.
There is an awesome kids zone. It is like nothing I have ever seen before. It wasn't your typical play place but it was few level of places where the kids could test out their baseball skills. My kids loved it!
The 15,000-square-foot Xfinity Kids Zone area is devoted to young White Sox fans, providing them with the opportunity to learn the fundamentals of baseball from Chicago White Sox Training Academy coaches. It features a youth-sized wiffle ball diamond for coaching clinics, batting and pitching cages, batting "swing" boxes for proper batting techniques and areas for base running and skills instruction.
Located above the left-field concourse and overlooking the field and the outfield seating area, Xfinity Kids Zone opens with the gates and remains open throughout the game. It is accessible from the 100, 300 and 500 levels of the ballpark.
Please note: Participants on the Xfinity Kids Zone must wear athletic shoes. Flip-flops, "Crocs" or other types of sandals will not be permitted.
Check the Amenities Map for more information.
We had a ton of food options but it was $1 hotdog night so we ate a lot of hotdogs! The concession stands, located throughout the ballpark, offer an endless variety of meals, snacks and treats. Kids meals are available by Sections 101 and 538 for children 13 and under. For a map of all Concession Items, click here.
If the White Sox are in town while you are visiting Chicago – you must get tickets and enjoy a baseball game. Check the Amenities Map for more information. Or click here for tickets.
If you would rather vacation in the Smokey Mountains – check out Wilderness at the Smokies. It's a really great resort!