I love cookies. Especially nice big monster cookies straight from the oven. It's the cookie that's got it all. It's like the most amazing oatmeal cookies with the flavors of brown sugar and butter and then you add some peanut butter AND mini chocolate chips and M&M's. It's pretty much the perfect cookie! It's like a peanut butter cookie + an oatmeal cookie + a chocolate chip cookie + an M&M cookie.
They are actually really easy to make too. This recipe makes about 26 jumbo cookies or 50 smaller cookies. But I think you should just go all our and make the jumbo version of these cookies.
You can make these with the min baking M&Ms or the larger ones. I think the smaller ones mix in better but the big ones are good too. Sometimes they fall out while you are forming the dough ball…so just stick them back on!
More Cookie Recipes!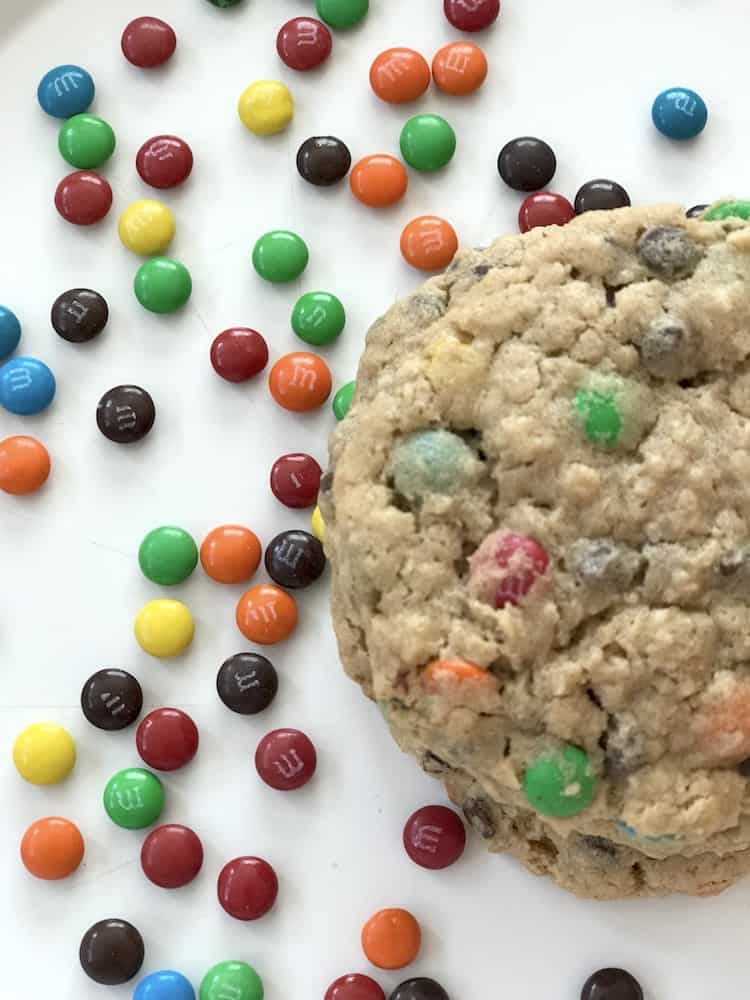 Easy Monster Cookies
Ingredients
½ cup butter, softened (1 stick)

½ cup creamy peanut butter

1 cup firmly packed brown sugar

2 teaspoons vanilla extract

1 large egg

1 teaspoon baking soda

1 teaspoon cornstarch

¼ teaspoon baking powder

¼ teaspoon salt

¾ cup all-purpose flour

1 ½ cups quick oats

1 cup mini M&M baking candies

1 cup mini semi-sweet chocolate chips
Instructions
Preheat oven to 350*. Line a cookie sheets with parchment paper and set aside.
In a large bowl (I prefer a stand mixer) cream together the butter, brown sugar, and peanut butter until light and fluffy, about 2 minutes.
Add in the egg and vanilla, scraping down the sides of the bowl as needed.
(Some people like to do this in a separate bowl…but I have never had an issue.) Add the baking soda, cornstarch, baking powder, salt, and flour to the wet mixture. Mix until just combined.
Add the oats, M&M baking candies, and chocolate chips and mix on low speed just until dough is combined.
For larger cookies* scoop about 2 tablespoons cookie dough and form a ball. Then flatten it between the palm of your hands.
Bake the cookies for 7-8 minutes until the edges are just starting to brown and the top still looks slightly undercooked.
Remove from the oven and cool for 5 minutes on the baking sheet before moving them to a wire rack to cool completely. (They will break if you move them too soon.)
For smaller cookies use just 1 tablespoon and bake for 6-7 minutes.
Makes about 26 large cookies or 52 small cookies. Below is a picture of the jumbo cookies.
These would be a hit at any party, after school snack or even holiday parties!! Make sure you pin this so you can find it later because you will want to make these cookies!