If you love the flavor of caramel apple, add these ingredients to your shopping list so you can make these Easy Caramel Apple Balls ASAP. The tanginess of the apple and the sweetness of the caramel is a great combination. Normally we enjoy candy apples or apples dipped in caramel – but now we can enjoy it in a ball!
These are like doughnut holes with an explosion of caramel. They are incredible just out of the oven when the caramel is warm and gooey. And the cinnamon sugar is a nice touch to complete this bomb of deliciousness.
Easy Caramel Apple Balls
Ingredients
Crescent Seamless Dough Sheet (it's with the refrigerated biscuits)

1 apple, finely diced

Caramels, unwrapped

1 Tablespoon cinnamon

¼ cup sugar
Instructions:
In a bowl, mix together the sugar and cinnamon and set aside.
Line a baking sheet with parchment paper or spray with non-stick spray and set aside. ( This will keep the caramel from sticking to the baking sheet.)
Unroll the Crescent dough. Place a caramel on the corner of the dough and add a spoonful of apples.
Cut around the caramel and apples leaving plenty of dough to be able to cover the mixture.
Roll the dough over the caramel and apples and form it into a ball.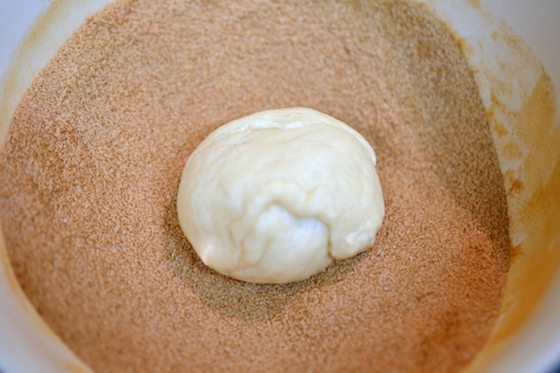 Roll the dough in the cinnamon sugar mix and place on the baking sheet.
Bake according to the Crescent Dough instructions.
Let it cool for just a minute. These are best served warm so they are oozing, melted caramel goodness.
Serve and Enjoy!
This is a much easier way to enjoy the caramel apple deliciousness. You just pop them in your mouth and take a moment to enjoy it. Fall is my favorite season because there are so many new flavors we get to enjoy and new recipes we get to try. Plus the weather is changing and I can open my windows and wear sweaters and boots.
What is your favorite food to enjoy in the Fall?