This Snickers Cupcake recipe is exactly what you need if you have leftover Halloween candy. It's easy to make and so delicious!
It's my favorite time of year!! We are finally going to have cooler temperatures so we can hang out outside more. Plus we will get to visit pumpkin patches, pick apples and more!
Then we get to the fun holidays like Halloween, Thanksgiving, and Christmas. Once October gets here – the rest of the year flies by!
First up is Halloween! This holiday seems to last for the whole month. There are so many pre-Halloween activities that my kids have so much Halloween Candy before Halloween actually gets here.
With 3 kids – we have so much candy!! So I like to use my candy to make desserts! We love Snickers – and this is not a candy bar we like to share.
But when we have so many – it's ok to add them to the top of a chocolate cupcake filled with caramel and peanuts topped with your favorite icing!
This Snickers Cupcake recipe is a delicious and easy recipe to use up some of that leftover Halloween candy.
To make this Snickers Cupcake recipe, I have shared my recipe for sweetened condensed milk buttercream icing – but I think it would also be delicious if you topped it with my peanut butter buttercream icing. You can find that recipe in this blog post.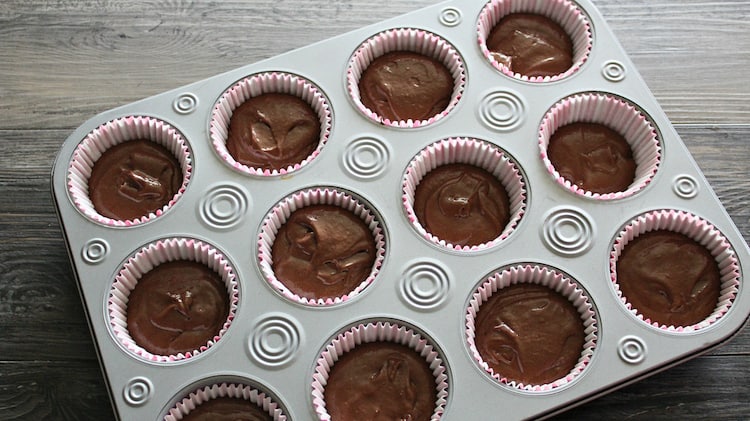 You make a basic chocolate cupcake.
Once they are cooked and cooled you will take out a small chunk from the top of the cupcake.
You will mix together caramel and peanuts and place them inside the cupcake and replace the cake.
Finally, swirl on your favorite frosting and top with extra nuts!
Doesn't that sound delicious?!
Yield: 24
Snickers Cupcake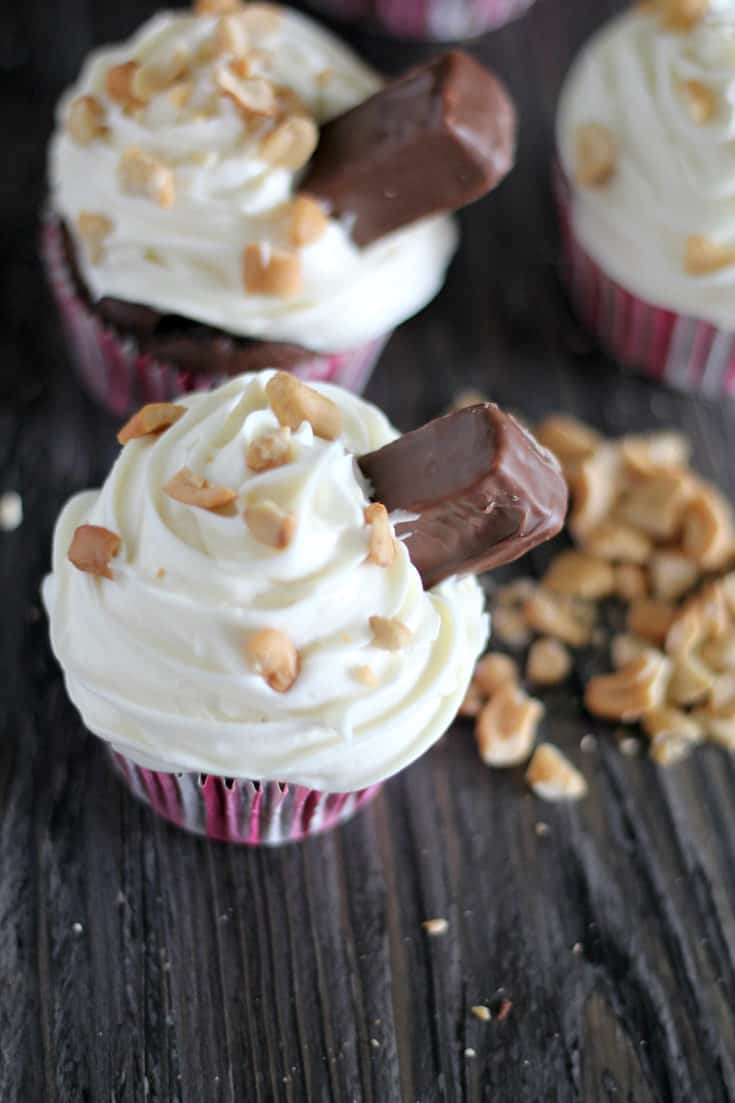 Ingredients
Cupcake Ingredients
¾ cups flour
½ cup cocoa
¾ teaspoon baking powder
½ teaspoon baking soda
¼ teaspoon salt
2 eggs
½ cup sugar
½ cup brown sugar
1/3 cup of vegetable oil
2 teaspoons vanilla
½ cup buttermilk
Cupcake Filling
1 - 12oz jar of caramel
1 - ½ cups of peanuts (Plus additional for topping the cupcakes)
1 bag of Mini Snickers Bars
Sweetened Condensed Milk Buttercream Frosting
2 sticks of butter, softened (1 cup)
3 cups powdered sugar
½ teaspoon vanilla extract
¼ cup Sweetened Condensed Milk
Instructions
Preheat the oven to 350 degrees. Add cupcake liners to your cupcake tin and set aside.
Whisk together the flour, cocoa powder, baking powder, baking soda, and salt in a large bowl until well combined.
In a separate bowl, mix the eggs, sugar, and brown sugar, oil, and vanilla. Mix until combined.
Pour half of the dry mixture into wet ingredients.
Then pour half of the buttermilk into the mixture.
Repeat with the remaining wet ingredients and buttermilk.
Blend until well combined.
Fill cupcake liners halfway with batter. Bake for 18-21 minutes- Set aside and let them cool.

Filling instructions:

1. Mix the caramel and peanuts until you like the consistency of the mix.

Frosting instructions:

1. Using a mixer (I prefer a standing mixer) beat the butter for about 2 minutes until it is light and fluffy.Add the remaining ingredients and mix until it is well combined.
It will be hard at first and then once it's all combined it will be a delicious fluffy icing you can use on your favorite cakes!!

Assemble Your Snickers Cupcakes

1. Using a spoon, carefully dig out the center of your cupcake.
2. Add your caramel and peanuts to the middle of the cupcake.
3. Place the top back on your cupcake, and add the icing to the cupcakes.
4. Sprinkle with peanuts and add the Snickers.

Another option is to use my Peanut Butter Buttercream icing recipe and add the Snickers and top with a chocolate ganache. (I would only make ½ of the ganache recipe.)
You could serve these at a Halloween party or just make them for someone that really loves Snickers Bars. And who doesn't love the combination of chocolate, caramel, and nuts?
Here are some more recipes to use up that leftover Halloween Candy!