This week is Christmas!! If you are looking for our favorite Christmas cookie recipes – this is the list for you! I know most people already have a list of their favorite cookies – but check out this list if you would like to add some more to your day of holiday baking!
This list is full of things that everyone can bake. Some are super simple and can use all boxed ingredients and others are a little more work but totally worth it!
My Favorite Christmas Cookie Recipes
Easy Chocolate Sugar Cookies Recipe – This is one of my newest recipes! I love regular sugar cookies but they can be boring. Everyone loves chocolate – so I thought it would be fun to make some chocolate sugar cookies! Cut them out and have fun decorating!
Brownie Mix Cookies – Just 5 Ingredients! You will love this recipe if you want fancy cookies with little work! You can make a big batch pretty quickly and they are so yummy! This recipe does not use cream cheese, like many recipes that start with a box mix. So you if you have a brownie mix – you probably have all the ingredients for this recipe!
Brownie Buckeye Cookies– These cookies have been one of my favorite recipes for years. Whenever I ask people what they want me to make for dessert – this is usually to cookie they ask for! It makes about 3 dozen cookies. So you may want to make a double batch 🙂
Easy Monster Cookies – Chocolate, Peanut Butter & Oatmeal In A Delicious Cookie! This recipe has it all! I think these would be the cookies that Santa would love to have waiting for him when he comes to deliver Christmas presents!
The Best M&M Sugar Cookies – Easy to make, even easier to eat, and a favorite of the kiddos.
Candy Cane Sandwich Cookie – Aren't these cookies gorgeous! These Candy Cane Sandwich Cookies are so perfect for Christmas! The red cookies and crushed peppermint candy sprinkled on the cookies are so festive!
Peanut butter kiss cookies are a Christmas cookie staple! My trick is to make the cookies smaller so you can make sure you will get a bite of a kiss in every bite!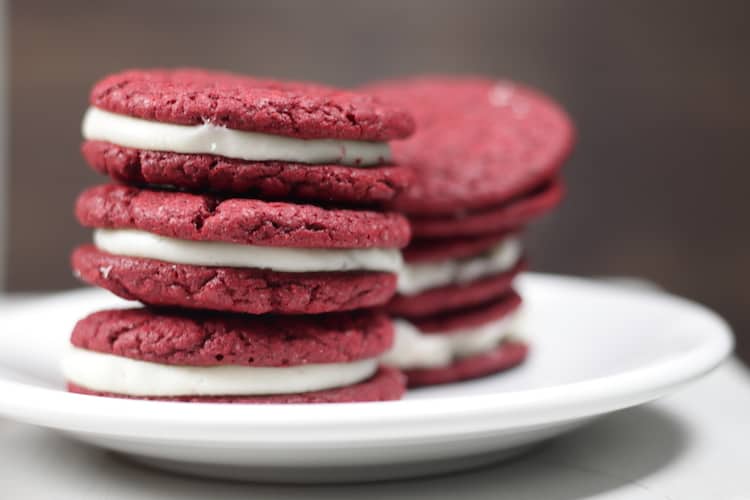 Red Velvet Sandwich Cookies with Cream Cheese Icing– Red Velvet is one of my all-time favorite flavors and these cookies just elevate my Christmas Cookie exchange plates!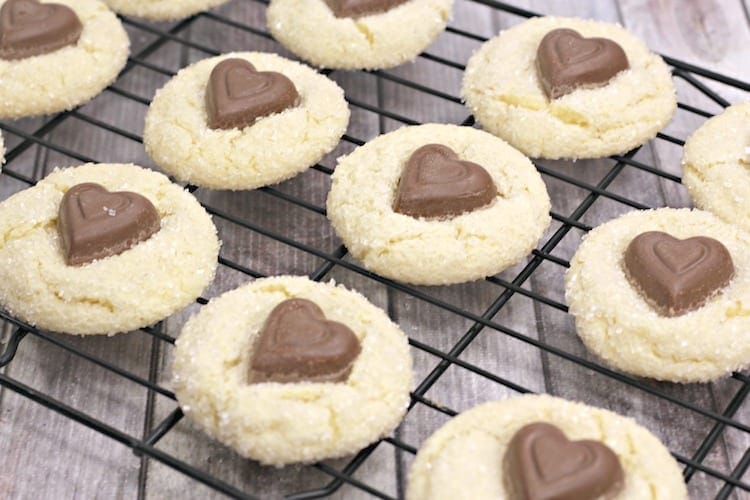 White Chocolate Crinkle Cookies With A Chocolate Heart – These are delicious and simple (and yummy) chocolate heart cookies are so fun to make!! If you can't find heart chocolates – add a Hershey kiss to add a fun spin to the peanut butter kiss cookies!
Chocolate Sprinkle Kiss Cookies– What could be better than chocolate kisses? Chocolate kisses on top of a delicious cookie with sprinkles!
Peanut Butter Sandwich Cookies with Chocolate Filling– This recipe is always a hit with my peanut butter loving kiddos. Super soft, creamy, and perfect.
Ooey Gooey Christmas Cake Cookies– These cookies use a cake mix! The perfect easy to make cookies with your kids! Great to bring for classroom parties or church get-togethers.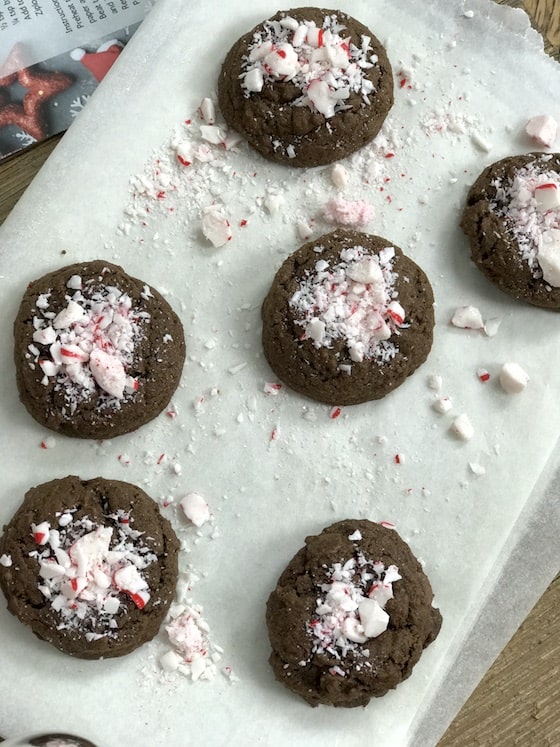 Double Chocolate Peppermint Cookies – Cookie Gift In A Jar – This is a great way to enjoy cookies after Christmas. You can assemble everything in a jat and give these as a gift!
Caramel Filled Rice Krispies Treats– A different take on the typical cookie recipe, these cookies are perfect for anyone looking for something different to make this holiday season.
Reeses Pieces Cookies – I love these! They are not your normal cookie recipe!
Now if it gets too tedious to make so many cookies – here are some of my favorite brownie and bar recipes that will be just as loved by your family!

Christmas Tree Brownies – how cute are these! And the best part is you can use all boxed ingredients or your favorite homemade recipes!
Oatmeal Fudge Bars are the most delicious bars you will ever make! The worst part about these cookie bars is that you have to wait for them to cool! You can dig in when they come out of the oven – they are just extra agooey!
Chocolate Cake with Peanut Butter Buttercream With A Chocolate Ganache – this is the ultimate cake if you prefer to make a cake for Christmas dinner. Everyone will love it!
Wow! That's a lot of sweetness!! It's a full list of my 18 favorite Christmas Cookie Recieps!