We are always looking to save money on our grocery bill. Here are the ways I can keep my budget under control and have an organized meal plan.
I have to admit that I really know how to save money on my grocery bill but sometimes I am just too lazy to do the work. And really its not that hard. I think it is all about planning….and sometimes life just gets too busy!
This is a reminder for me that a few minutes of my time is worth it to save a lot when it comes to spending money on food. So here are my tips to help you spend less on groceries every month.
Buy Your Meat in Bulk
Every few weeks my grocery store has a really good sale on chicken so i buy 20-25 pounds.
This year we decided to buy a 1/4 cow! We have been told this will be close to 150 pounds of beef for around $600. It think this is an amazing deal because they will be giving us beef from all parts of the cow and they are packaging them into the weight that works for our family.
Plus it is 100% grass fed beef. It is a much better deal than buying it at the grocery store, it is a better quality and it is fresher.
I even got an amazing deal on a deep freezer – I went to BestBuy.com to do some research and they had an Insignia™ – 7.0 Cu. Ft. Chest Freezer for $199 but they had a scratch and dent one at my Best Buy for $129. I went there to check it out and it had a very tiny dent in it.
When I checked out it rang up for $95. I had a gift card and a Best Buy certificate and paid about $2 out of pocket. (So do your research! Scratch and dent have amazing savings!)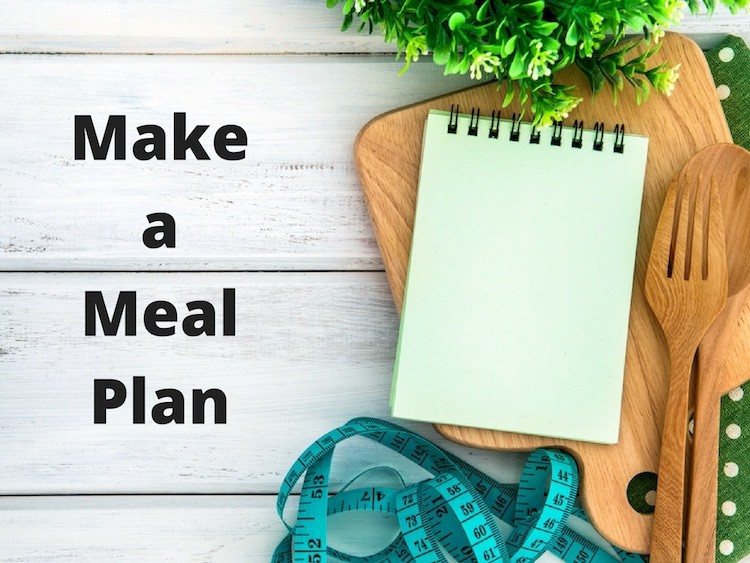 Meal Plan
This is easier said than done! I have a list of about 20 recipes that I know my family likes. i also come across all these amazing recipes online that I print out and add to my collection.
I then go through what I have in my house. I plan about 7 dinners. This keeps me out of the store as much as possible. Sometimes we even end up eating leftovers or going to a friend's house for dinner so these meals be moved to the next week.
First – take inventory of the meat you have available. Write it out on a sheet of notebook paper. Then I come up with meals that use that meat.
Base you meal plan not just on the meats but on the other ingredients you already have at home. For example, if you have chicken, sauce, spaghetti and bread crumbs in your pantry you could make Chicken Parmesan for dinner.
You would only need to buy some mozzarella cheese, garlic bread and a side salad.
Once I have the meals and side dishes written out I then go through my recipes and hit down what I need. It is important to take inventory of your pantry so you dont buy more than you need. Now that you have your meal plan and your grocery list – it is time to shop!
Here are some of our favorite recipes:
It is very simple but you can print this meal plan and grocery list printable worksheet and it will help you organize your meals and your shopping list. Once you are done shopping you can tear off the top part and hang it on your refrigerator so you know what meals are ready to be prepared in your home!
Online Grocery Shopping
I love to go to the grocery store – I know that sounds odd 🙂 But I like to check out new products and see what kind of unadvertised sales they are having. But this causes me to buy things I dont need and spend more money.
But grocery shopping online is so much better. Its quicker and I never have to leave my van. I grab my list and I go to Walmart.com and do grocery pick up. I go through my list and add everything to my cart. As I search for products they tell me everything they have available so I can compare the brands, sizes, and prices. Use this referral link to get $10 iff your first order.
I pick a time that works best for me and then I go to Walmart, park in a designated spot, and they load it into my van. They even brought me a bag of free samples to enjoy. I use the Walmart app so I just clicked a button to check in when I got there and waited for my stuff.
Walmart really has some of the best prices in my area.I used to make a stop at Aldi's after church on Sundays to save money but the prices at Walmart are just as low and they are at the entrance of my neighborhood and they have pick grocery pick up.
If you order something and it's not in stock they will substitute it with a better product.
You know what else I love about this…I dont forget anything on my list. (And there are many times I get to the store and realize I have forgotten my list!)
This will not only save you a ton of time – but it will also save you money. Once you they it you will be hooked.I am working on my list for my next 7 days of meal planning!
If you don't do online grocery shopping make sure you check out the weekly sales flyer and load any digital coupons to your account. You can make your meal plan based on the items that are on sale. When I shop at Walmart I don't feel like I need to make a plan off the sales because the prices are already very low.
Every Dollar App (Or any Budget App)
Know where your money is going! Keeping a budget is scary. It shows you where you really spend your money. It makes you realize that maybe you are spending too much money on eating out, groceries, or self pampering.
These are all things we need in our lives but maybe it's a season in your life where you want to get control of your finances. Maybe you want to save more for the future or maybe you want to quit working and you don't know if your family can live on 1 income.
Looking at where all your money is going every month will help answer your questions.
The Every Dollar App lets you set a monthly budget and then as you spend the money in that category you deduct it. Try it next month and you may be surprised about where all your money goes.
This month I really want to track my grocery spending to see how much I really spend every month.
Make sure you print out this template to make your meal planning and grocery shopping a lot easier! I know as long as I have a plan and make a list – I save more money at the grocery store. It also helps me feel like I have more control at dinner time.
I am not worrying about what I can quickly whip up for dinner when the list is on my refrigerator.
How do you save money when it comes to your grocery bill?